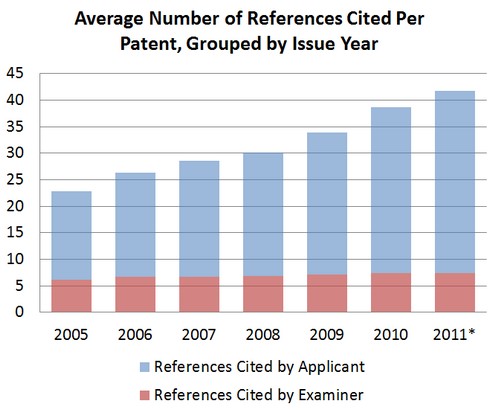 What are the odds that the PTO's new limited disclosure rules and the Federal Circuit's Therasense and Excergen decisions will turn this trend around? How will patent prosecutors alter their disclosure protocol based upon these changes in law & procedure?
More information on the data: The chart above shows the average number of references cited by both Applicants and Examiners as shown on the face of issued patents. The chart is based upon all original utility applications published during a given time period. For 2011, numbers are through 7/20/2011. The chart is "stacked," thus, the average 42 citations per patent in 2011 includes, on average, 7.5 citations by the examiner and 34.5 citations by the applicant. In 2010 I created a similar chart that showed a potential downward trend for 2010. This new data rejects that trend – although it is somewhat different because I have now excluded design patents from the data set.
As the table shows below, the median number of cited references is also growing, but at a much more manageable level and pace.
| | |
| --- | --- |
| Year | Median Number of References Cited |
| 2005 | 13 |
| 2006 | 14 |
| 2007 | 14 |
| 2008 | 14 |
| 2009 | 15 |
| 2010 | 16 |
| 2011 | 17 |