For patent applications filed since 1995, the patent term is calculated by adding twenty years to the filing date. US applicants can add up to one year to the term by first filing a provisional application and then, after a one-year delay, filing a regular (non-provisional) application.  This is because the filing of the provisional application does not trigger the beginning of the twenty year term.  Provisional applications have the additional benefit of delaying some prosecution costs. However, the total application cost may well be greater because of the added fees and attorney oversight.
Shifted Term: Although the patent term with a provisional application can be up to twenty-one years from the provisional filing (not counting other term adjustments), the effective term (issue date to expiry date) is not really changed. Rather, because the USPTO does not examine (or even queue) provisional applications, the extra year on the end of the term is balanced by an extra year in prosecution. Thus, the trade-off is a question of whether the additional enforceable time is more valuable in three years from filing or in twenty years. 
Taking Advantage of Provisional Patent: The chart below shows the percent of US originated patents issued in 2010–2011 that claim priority to one or more provisional patent applications, grouped by USPTO technology center. Provisional applications have become popular across all technology areas. However, when compared with other areas of technology, the patents examined in Technology Center 1600 (Biotechnology and Organic Chemistry) are much more likely to claim priority to provisional applications and gain the year of delay.  In that area, research competition and a norm of academic publication requires that applications be filed early in the development process to avoid loss-of-rights. Yet, products are typically not ready or approved for market by the time of issuance. It is unclear at this point how many applicants will take advantage of the USPTO's two-year delay program.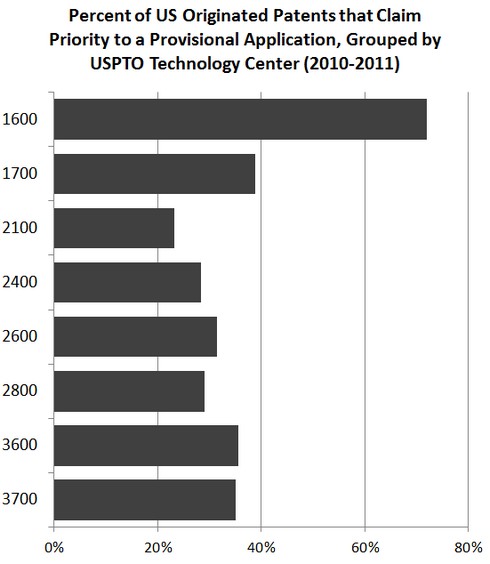 USPTO Technology Centers:
 1600 – Biotechnology and Organic Chemistry
 1700 – Chemical and Materials Engineering
 2100 – Computer Architecture, Software, and Information Security
 2400 – Computer Networks, Multiplex communication, Video Distribution, and Security
 2600 – Communications
 2800 – Semiconductors, Electrical and Optical Systems and Components
 2900 – Designs
 3600 – Transportation,Construction, Electronic Commerce, Agriculture, National Security and License & Review
 3700 – Mechanical Engineering, Manufacturing, Products
Over the past several years, the percent of patents that claim priority to a provisional application has continued to rise. I expect that trend to continue.