In re Aoyama (Fed. Cir. 2011)
Aoyama's pending application claims a supply chain management system with two elements: "an order controller system" and "a warehouse system." According to the claim, the order controller generates "transfer data" using "reverse logistic means" and the warehouse receives the transfer data. The Examiner identified U.S. Patent Application Pub. 2001/0034673 ("Yang") as fully anticipating and that rejection was affirmed by the Board of Patent Appeals and Interferences ("Board").
On appeal to the Court of Appeals for the Federal Circuit, a split panel agreed that the claims lacked merit but found them impermissibly indefinite rather than anticipated.
The key to the decision focuses on the means-plus-function "reverse logistic means" limitation.
Means-plus-function (MPF) claims are deceptive. MPF claims appear to be broadly drafted and without any structural limitations. However, the patent act requires that the actual scope of MPF claims be limited to structures disclosed within their specifications. 35 U.S.C. 112 p6. The court has also repeatedly held that an MPF limitation is considered impermissibly indefinite if the specification does not contain any structure that performs the claimed function.
Here, the claimed "reverse logistic means" generate "transfer data." Aoyama pointed to a flow-chart (Figure 8) as providing the necessary structure. (Shown below). In reviewing the flow-chart, however, the Federal Circuit could not identify sufficient structure. In particular, the court noted that the flow-chart identified a number of results, but did not identify any way that "a computer could be programmed to produce the results described in the boxes." Quoting both the Examiner and the Board, the Court wrote that Figure 8 only "presents several results to be obtained, without describing how to achieve those results, and certainly not how to generate transfer data."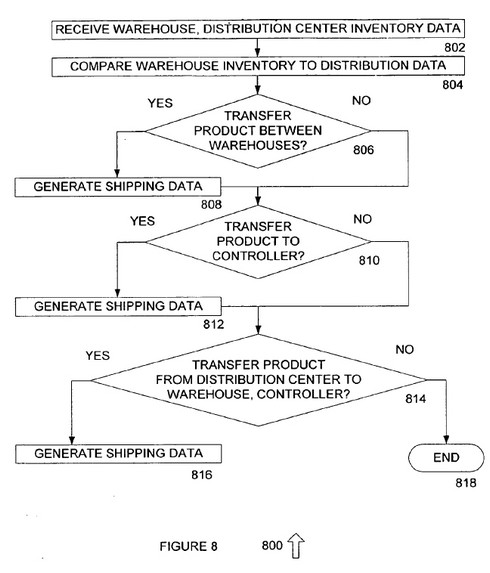 Importantly, the question of means-plus-function structure is much like that of written description. It does not matter whether one skilled in the art would be able to create a structure to perform the claimed function. Rather, the focus is on whether such structures were disclosed in the specification.
Because the means-plus-function limitation lacked sufficient disclosure of an accompanying structure and are therefore unpatenable.
In dissent, Judge Newman argued (1) that the federal circuit improperly raised the issue of indefiniteness and (2) that the figure and accompanying text should be considered sufficient structural disclosure.