by Dennis Crouch
The USPTO recently reported that in FY2011 and for the first time in history, more than 500,000 patent applications were filed during the fiscal year. 500,000 is a large number, but it turns out that the report of increased patent filings should not be seen as suggesting an increase in innovative activity. Rather, as the charts below demonstrate, the number of new patent filings has actually decreased over the past five years.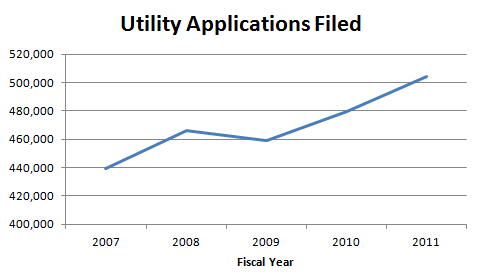 The dramatic increase in reported application filings shown by the chart above is entirely explained by the USPTO's odd accounting practice that counts the procedural "request for continued examination" (RCE) as a utility application filing. Under US patent procedures, a patent applicant faces a decision point after receiving a final rejection from the patent examiner. Generally, the applicant can (1) appeal the rejection to the administrative board, (2) abandon the application, or (3) file an RCE along with new material regarding patentability of the invention. Once an RCE is filed (along with the required fee), the same patent examiner is ordinarily required to again review the application and give it full consideration as to the patentability of the claimed invention.
As the chart below demonstrates, the number of RCEs filed annually has increased dramatically – almost doubling over the past five years. At the same time, original utility patent application filings have dropped slightly. I.e., patent filings are down. (To be clear, "original" applications as used here also include utility applications that claim priority to US provisional applications, international patent applications (PCTs), and foreign patent applications.)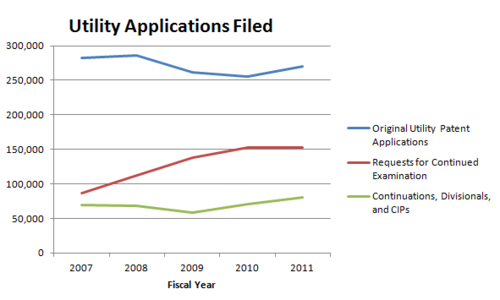 What's the point: A rise in filings is helpful for the USPTO because it allows the agency to justify increased funding requests; to show its stature amongst world patent offices; and to demonstrate that the agency truly serves as a gatekeeper. Unfortunately, the report is not accurate. The positive side of these numbers is that the steady filing numbers should give the PTO breathing room to address the backlog of 1.2 million pending utility patent applications.