As the following chart demonstrates, provisional patent applications are increasingly relied upon by US patent applicants.  More than 1/3 of recently issued utility patents of US-origin claim priority to at least one provisional application. (Here, I defined US-origin as patents that do not claim priority to any prior foreign or international applications). Of applications that claim provisional priority, most (~80%) claim priority to only one provisional application.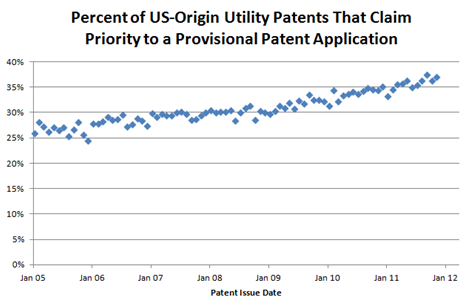 I have written previously that provisional applications are serving their intended role of adding 1-year delay to the prosecution process. By design, the US 20-year patent term does not begin until the filing of a subsequent non-provisional application. Thus, a provisional application has the dual benefit of (1) establishing an early priority date for patentability while (2) shifting the patent term one-year later.
For the cumulative frequency chart below, I created a dataset of about 165,000 patents that have issued since January 2005 and that claim priority to at least one provisional patent application. For each patent, I identified the number of days between the filing of the earliest provisional application and the subsequent non-provisional application. According to the Patent Statute, a non-provisional application must be filed by the 12-month deadline or else be deemed abandoned. About 40% of the non-provisional applications were filed within one day of the 12-month deadline. About 70% were filed within two-weeks of that deadline.