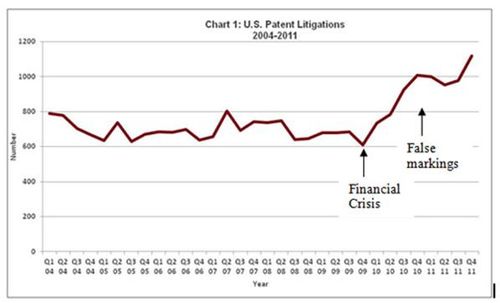 Terry Ludlow of ChipWorks recently created a time-series chart showing the number of US patent lawsuits per quarter. I have reproduced the chart with permission. [LINK]
The headline here: More patent lawsuits are being filed now than ever – even more than in the heyday of the false-marking litigation. Just as a caution – the recent rise in the number of lawsuits does not actually mean that there is more patent litigation going one. Rather, a substantial portion of the increase in Q4 2011 is due to the new joinder rules that force a patent holder to file separate lawsuits against similar defendants rather than bundle them all into a single action.
Thus, as an example, last week the patent holding company NovelPoint Security filed 30+ separate patent infringement lawsuits in the Eastern District of Texas. In the past, NovelPoint might have instead pursued all of those actions within a single complaint.
* * * * *
The NovelPoint Security patents both include David C. Reardon of Springfield Illinois as the sole inventor. See U.S. Patents 6,212,635 and 5,434,562. Neither patent is listed as assigned within the USPTO assignment database. Reardon is an interesting character – he is an electrical engineer but is much better known as a pro-life / anti-abortion advocate. Reardon runs the Eliot Institute that he founded. The patents themselves focus on computer security systems using public/private key encryption and claim a 1997 priority date based upon a provisional patent application filed