By Dennis Crouch
Provisional patent application (PPA) filings continue to rise with over 160,000 filed in FY2012. Despite the relatively large number of filings, more than half of these applications are abandoned without ever reaching the non-provisional application stage. And, it appears that this rate-of-abandonment is growing. At the same time (and because of the growing absolute number of provisional filings), a larger percentage of non-provisional applications claim priority to a provisional filing than ever before.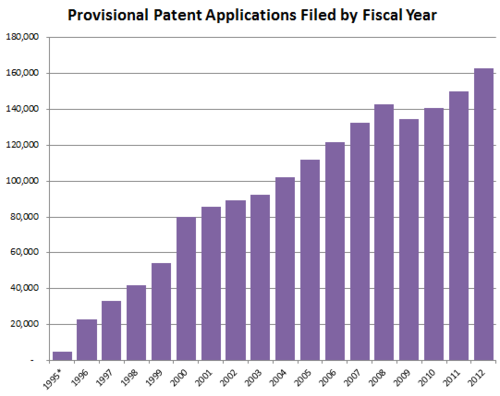 The chart above shows the number of provisional patent applications filed each fiscal year for 1995-2012. 1995 is a partial year because provisional patent applications were created as an option as part of the 1995 GATT Uruguay Round implementation and only became available mid-year. Since then, over 1.7 million provisional applications have been filed. A provisional application is essentially a one-year place-holder offering no rights other than the filing-date priority claim. During that year, the USPTO ignores the application until the applicant takes some additional step – typically filing a non-provisional application or an international PCT application. At the end of the year, the provisional application is automatically abandoned. [But see, two year provisional].
By design, the vast majority of provisional patent applications are filed on US-originated inventions.
For most, provisional applications are seen as a low-cost mechanism for claiming a priority date and for delaying the eventual higher cost of drafting and filing a non-provisional application. Others (especially those in the pharmaceutical industry) use provisional applications as a way to shift the patent term back by one year.
The cost-savings is quite apparent once you consider the reality that most provisional applications are abandoned and never result in a non-provisional application. One problem with the cost-savings approach is that provisional applications only serve their purpose if they include a sufficient disclosure. In a small study of provisional applications, I found around 35% do not include even a single claim, and about 15% are essentially a stack of presentation materials.
The large number of abandoned provisional applications leads to several important results. First, the two-step filing process likely helps applicants do a better job of weeding out lower-quality inventions by the time examination begins. On the flip side, more weeding is probably necessary because the low cost and formality of provisional applications likely induce the filing of more weeds. Second, because the USPTO never makes-public the non-relied-upon applications, hundreds of thousands of patent applications are kept secret and their disclosures never made public. Although the information may still be useful for the applicant as a trade secret, the abandonment most likely means that the idea has been shelved and likely lost.