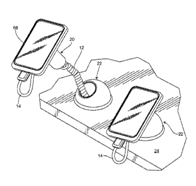 By Dennis Crouch
Supplemental examination has been seen by many as a complete replacement for the filing of ex parte reexaminations. The process offers an added level of legal benefits to patentees for a relatively small additional cost and no change to the timing structure. The America Invents Act of 2011 (AIA) created the supplemental examination option but delayed implementation until the one-year anniversary of AIA enactment in order to allow the USPTO sufficient time to finalize its procedures and prepare for the influx of supplemental examination requests. Thus, on September 16, 2012 (the one-year anniversary) supplemental examination became an option available to all patent owners.
Supplemental examination requests become public as soon as they are given a filing date by the USPTO. However, prior to today, no supplemental examination request has been given a filing date. The first public request is 96/000,007, filed on October 31, 2012 by a company known as "Merchandising Technologies" asking for supplemental examination of its U.S. Patent No. 7,909,641 that claims a cable-management system that swivels, extends, and retracts. The product is used for electronic device displays in retail stores such as Best Buy and Target. Earlier this year, a competitor sued MTI asking for a declaratory judgment of noninfringement, invalidity and unenforceability. Invue Security Products Inc v. Merchandising Technologies, Inc,.C. Docked No. 3:12cv88 (filed February 9, 2012, W.D. N.C). The judge dismissed that case without prejudice for lack of case or controversy. If the same case arises again, this supplemental examination should prevent a recurrence of the unenforceability claim.
Now, it appears from the serial number given to this particular supplemental examination number that it was the seventh one filed by now – at the two month point – we may be up to ten on file. In its final rules, the USPTO had estimated a filing rate more than twenty-times this. See Changes To Implement the Supplemental Examination Provisions of the Leahy-Smith America Invents Act and To Revise Reexamination Fees; Final Rule, 77 Fed. Reg. 48827 (2012) (Estimating 1,430 supplemental examination requests per year). The seemingly low number of actual filings may be due, in part, to the glut of ex parte requests filed just before the seven-fold fee increase in September 2012. Other explanations involve the high cost of supplemental examination; novelty of the program; and weakening of the inequitable conduct doctrine by the courts.
A second concern is why this supplemental reexamination is the first to publish. I have communicated with attorneys who filed some of the non-published cases. Apparently many of those are being rejected for failing to comply with the supplemental examination rules. I don't have any further information at this point on why those were rejected. Unfortunately we may never have that information if the PTO continues its practice of providing no public access to supplemental examinations prior to awarding a filing date.
The petition filed in this case is quite simple:
$21,260 filing fee ($16,120 reimbursed if there is no reexamination ordered);
Submission of seven prior art documents;
An explanation of what is provided by the prior art with relation to the patent and a claim chart showing that relationship; and
An explanation of how the claims are still valid over the prior art.
The request itself is six pages long. [Download 96000007]. There is no admission that these references were improperly withheld during prosecution since that statement is not called for even if it were true.
Now, the USPTO has until December 31, 2012 to determine whether the identified references raise a substantial new question of patentability and, if so, order a reexamination. If not, the PTO will issue the first supplemental examination certificate.