by Dennis Crouch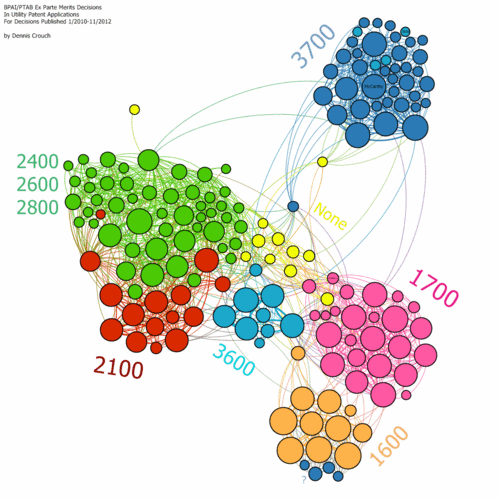 Here is an image from a project that I'm working on with PTAB/BPAI decisions.  Each node (circle) represents one of the 160 or so PTAB judges that have participated in an ex parte patent appeal since January 2010.  These are cases where a patent examiner has twice rejected a patent application and the applicant then asks for appellate review. 
Node size varies according to the number of cases decided during the past three years.  For the most part, smaller nodes represent newer judges. Connections between judges are created each time two judges sit on the same panel.  I have also color-coded the judges according to their primary technology area.  Thus, judges coded as red judge mostly cases from Technology Center 2100 (Computer Architecture, Software, and Information Security) while judges coded as orange mostly hear cases from Technology Center 1600 (Biotechnology and Organic Chemistry). (Tech Centers).  There is extensive overlap between Tech Centers 2400, 2600, and 2800 and so I grouped those together and colored them green.  Judges coded yellow had no discernable primary technology area. 
As may be discernable from the chart, judges are much more likely to be empanelled with others in the same technology area.  Mechanical engineers are especially separate and, for the most part, TC1600 judges only interact with themselves and TC1700 judges.*  The result here is that, in the usual case, all three judges on a panel have the same technology focus. 
Now, back in 2009 there were only about 80 judges on the entire board. That made technological specialization difficult. Since then the PTAB has doubled in size and is expected to continue to rapidly grow over the next year. One question that the USPTO will need to address is whether to double-down on technological specizlization or instead to take measures that ensure that the judges have a broader spectrum of experiences.  The answer may well depend upon whether the appeals brought to the PTAB are more due to (alleged) (1) examiner errors in understanding the technology at issue or (2) examiner errors in understanding how to apply the law of patents.  Those questions are ones that we'll save for another post.