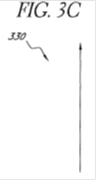 by Dennis Crouch
Adding a bit of drama to the slide-to-unlock debate, Micron has just received its own patent covering a "system and method for controlling user access to an electronic device." U.S. Patent No 8,352,745 issued in January 2013 but claims priority to an original application filed in February 2000 and lists Jim McKeeth as inventor.
Claims:
1. A system comprising:
a touch screen upon which a user is to enter, by drawing, a geometric pattern in a specified direction to gain access to the system; and
a processing circuit coupled to the touch screen to compare the user entered geometric pattern to a predefined geometric pattern stored in a memory.
6. The system of claim 1 wherein the user entered geometric pattern is a line.
Apple's slide-to-unlock patents claim priority only to the 2004-2005 timeframe and, although they may be separately patentable, Apple's patents will not serve to invalidate Micron's new patent.
Samsung has a 10-year cross-license deal with Micron. I have not seen reports of any similar deals with Apple, Google\Motorola, or RIM. It will be interesting to see whether Micron holds onto the patent or shifts it to an enforcement company as it did in 2010 in sending 4,000+ patents to John Desmarais for enforcement. Micron is a major manufacturer of computer memory with a market valuation of about $8 billion, perhaps they should just ask for Apple to endorse-over its recent billion dollar patent infringement judgment. One complicating factor is that I suspect Micron is a supplier for all of the potential defendants.