Guest Post by James Bessen

Last summer, the President's Council of Economic Advisers issued a report arguing that Patent Assertion Entities (PAEs) are responsible for a major harmful increase in patent litigation. That report was based, among other things, on roughly twenty academic studies.
But recently, David Kappos, former Director of the US Patent and Trademark Office, declared that, to the contrary, "the building is not on fire," in an article titled "Facts Show Patent Trolls Not Behind Rise In Suits." Kappos dismissed the academic studies as "unhelpful" and "badly distorted" because they did not make all of their underlying data publicly available. Instead he relied only on "facts" from a recent paper by three academics, Christopher Cotropia, Jay Kesan and David Schwartz (CKS) as well as a strained interpretation of one finding in a GAO report (which also did not make its underlying data publicly available).
The CKS paper does, indeed, identify a minor error in the President's report affecting the period from 2010 to 2012. But the paper does not challenge the data showing that PAEs are responsible for a very large increase in the number of companies sued for patent litigation over the last decade. Nor does the paper's "granular and transparent" data appear to make any significant difference despite the assertion that it calls prior research into "serious question": CKS find more or less the same numbers of lawsuits as other studies using comparable definitions of PAEs, despite their claims to the contrary. The CKS paper makes a contribution and it is great that the authors are able to make their data public, but it is dangerous for policy makers to base judgments on highly selective "cherry picked" data that cover only two unrepresentative years or to dismiss a large number of careful studies just because they have not disclosed all of their data.
The CKS paper targets the claim in the President's report that "Suits brought by PAEs have tripled in just the last two years, rising from 29 percent of all infringement suits to 62 percent of all infringement suits." While this statement is factually correct, given the definition of PAE used, it could be easily misinterpreted. That is because that two year period from 2010 to 2012 also saw a significant change in the law: the America Invents Act, passed in 2011, has a joinder provision that prevents patent holders from suing multiple, unrelated defendants in a single infringement lawsuit. This is important because prior to this change, PAEs tended to sue more unrelated defendants in each lawsuit. In other words, the 29 percent figure for 2010 represented more than 29 percent of the distinct defendants, while the 2012 figure more or less does represent 62 percent of the distinct defendants. The 29 percent figure is too small for an apples-to-apples comparison.
Ideally, one would want to compare the number of unrelated defendants in different years in order to eliminate the bias introduced by the change in the joinder provision. To make a comparison of that sort, CKS collected patent lawsuit data for 2010 and 2012, categorizing each suit by the nature of the patent holder. A patent holder could be: (1) a University; (2) an Individual Inventor/Family Trust (e.g, GeoTag); (3) a large Patent Aggregator (e.g., Acacia); (4) a Failed Operating Company or Failed Start-up; (5) a Patent Holding Company that appears unaffiliated with the original inventor or owner; (6) an Operating Company; (7) an IP Holding Company affiliated with an operating company; or (8) a Technology Development Company (e.g., Walker Digital).
Although CKS are not the first researchers to categorize different types of NPEs, they seem to think no one else has done it correctly. Specifically, they claim that "Our most basic descriptive findings are inconsistent with and call into serious question the summary data provided by RPX, Patent Freedom, and other academics." Kappos goes slightly further, completely dismissing all previous research studies, calling them "unhelpful at best, and more likely hurtful by representing as 'data-driven' a picture that is actually badly distorted." However, these charges are simply not true.
Although Kappos claims that previous studies lack a "transparent and appropriately scoped definition of 'patent troll,'" almost all the previous research papers have extensive discussions of how they identify PAEs. Moreover, using these definitions, it turns out that summary statistics from these sources are rather close to the corresponding estimates from CKS. For example, Patent Freedom counts "non-practicing entities" (NPEs) using a definition that corresponds roughly to CKS categories 2 through 5. RPX uses a definition that includes the first five CKS categories plus category 7 plus operating companies that sue outside of their industry (not counted in CKS). Feldman et al. count patent monetizers corresponding to CKS categories 2 through 5, and 7. We can compare the number of NPE lawsuits reported by these different sources to the roughly corresponding category totals reported in the CKS paper:
Estimates of Lawsuits Filed by NPEs
| | | | |
| --- | --- | --- | --- |
|   | Estimate from Other Research | Estimate Using CKS Data For Corresponding Categories | Difference |
| 2010 |   |   |   |
| Patent Freedom | 595 | 689 | 16% |
| RPX | 765 | 733 | -4% |
| 2012 |   |   |   |
| Patent Freedom | 2,652 | 2,687 | 1% |
| Feldman et al. | 2,956 | 2,710 | -8% |
| RPX | 3,054 | 2,745 | -10% |
Do these differences show that previous research is so inconsistent with the CKS estimates as to call that research into "serious question"? Hardly. First, there is no evidence of any consistent bias in the comparisons. Indeed, while some of the estimates are greater than the CKS estimates, the Patent Freedom data generate smaller estimates than the CKS data.
Second, the differences are small, especially considering that these different researchers use somewhat different concepts of what they mean by "patent troll." Although reasonable people might disagree about which actors to include in their studies, the studies still provide helpful guidance about trends and the extent of patent litigation. But the crudeness of these measures means that 10 or 20 percent differences are not significant. Such differences are certainly no excuse to dismiss most of the prior literature on this subject.
More important, such differences are not economically important. For example, as we shall see, PAE litigation has increased by an order of magnitude over the last decade. A 10 or 20 percent difference does not change this conclusion. Nor does such a difference fundamentally alter estimates of the economic impact of PAEs. For example, one of my studies with Mike Meurer found that PAEs cost defendants $29 billion in 2011. If the true cost were $26 billion or even $23 billion, this would not change the conclusion that PAEs impose substantial costs on defendants. These findings cannot be dismissed, as Kappos does, just because he doesn't have access to the underlying data.
CKS have not shown any actual evidence that their data are significantly inconsistent with other studies. Nor have they shown anything that calls other research into "serious question" despite the gravity of that charge. Nor have they shown any evidence of actual bias in the previous research. Kappos and CKS dismiss a large body of prior research without showing any substantive reason to do so. While much of the prior research is based on private data, researchers have checked these data against other sources. What matters in science is not the access to the data, but the replicability of the results. Without actual evidence of a bias or major inconsistencies across different data sets, there is no reason to dismiss these studies.
CKS's findings do show that the figures cited in the President's report are misleading, but, as we shall see, that evidence exists in other sources as well. Recall that we need to compare the number of unrelated defendants sued in different years. To address this, CKS count the number of parties to the lawsuit excluding the patentee, the "other parties" to the lawsuit. They find that between 2010 and 2012 the number of these other parties in lawsuits filed by non-operating companies changed little. For example, in categories 2 through 5 the number of "other parties" in PAE suits went from 5,515 to 5,554.
However, the number of "other parties" listed in lawsuit filings is not an accurate measure of the unique unrelated defendants. For example, a parent company will often be listed as a defendant along with one or more subsidiaries. Fortunately, Patent Freedom has done the hard work of tracking down unique operating company defendants (and, yes, our researchers checked their work) as have several of the other researchers.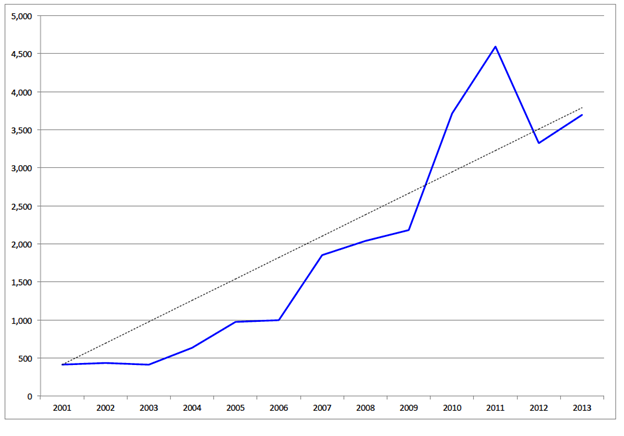 Figure (Above): Number of operating company defendants in PAE suits.
Source: Patent Freedom
The Patent Freedom counts of unique NPE defendants are shown in the figure along with a trend line. The counts of defendants are much smaller than CKS's "other parties."
Several findings are apparent. First, there appears to be a surge in multi-party PAE lawsuits prior to passage of the America Invents Act in September 2011. Apparently, some PAEs wanted to get their suits in prior to the new joinder rules that made it more expensive to sue multiple parties.
Because of this surge, any comparison between 2010 and 2012 is bound to be highly misleading. In the Patent Freedom data, the number of unique defendants actually declined during this interval. But it is equally clear that 2010 and 2011 are exceptions to an otherwise steady, increasing trend from 2001 through last year. Claiming that patent trolls have not contributed to the rise in patent defendants by looking only at 2010 and 2012 is a serious misrepresentation.
Moreover, this finding of a large shift is supported by a large number of studies, including research by one of the CKS authors. Jay Kesan (with co-author Gwendolyn Ball) previously estimated that only 4 percent of patent lawsuits were filed by "patent licensing firms" at the beginning of the decade. To compare, the CKS data find that 21 percent of lawsuits were filed by patent licensing firms in 2010 (categories 3-5 and 7). That is a fivefold increase over the decade. The share of lawsuits grew to 45 percent of lawsuits in 2012, after the change in the joinder rule; if we add individuals & family trusts, such as the notorious GeoTag, then the share rises to 52 percent, over half of all patent lawsuits. So these data show not only a dramatic rise in the share of lawsuits filed by patent licensing firms, but also a large share of the lawsuits come from these parties in 2010 and even more in 2012. Given the earlier paper, does Professor Kesan really believe that this latest paper calls into "serious question" the findings of many other researchers that patent trolls have contributed substantially to the rise in patent litigation?
Nor does the GAO report contradict the basic trend seen here. Kappos asserts that the GAO found no "statistically relevant" change in the percent of lawsuits filed by trolls. Those words are very carefully chosen "lawyer words." In fact, the GAO found a 40 percent increase in the PAE share of lawsuits from 2007 to 2011. However, that difference was not statistically significant given the small size of the GAO sample. The GAO also reported that the number of PAE defendants tripled during these years and PAEs accounted for half of the large increase in patent defendants during these years. The GAO report is entirely consistent with the other evidence that the share of PAE lawsuits and defendants have been rising.
Finally, the figure shows that the PAE litigation has continued to increase after the America Invents Act, more or less right on the trend line established since 2001. The Act has been touted as the solution to the problems of the patent system; the data from 2013 suggest otherwise.
The bottom line is this: based on the overwhelming weight of the evidence, including that in CKS itself, PAEs are filing dramatically more lawsuits against very many more defendants than they did at the beginning of the last decade. This is true despite the decline in defendants between 2010 and 2012; the GAO report further supports this finding. The conclusion based on all the evidence is that the building is indeed burning. Policymakers are right to take action.
= = = = = =
References

Allison, John R., Mark A. Lemley & Joshua Walker Extreme Value or Trolls on Top? The Characteristics of the Most Litigated Patents, 158 U. Pa. L. Rev. 1 (2009)

Ball, Gwendolyn G. Ball & Jay P. Kesan, Transaction Costs and Trolls: Individual Inventors, Small Firms and Entrepreneurs in Patent Litigation, http://papers.ssrn.com/sol3/papers.cfm?abstract_id=1337166

Bessen, James and Michael J. Meurer (2014), "The Direct Costs from NPE Disputes," Cornell Law Review, v. 99(2), 387-424.

Bessen, James and Michael J. Meurer (2014 forthcoming), "The Patent Litigation Explosion," Loyola University Chicago Law Journal, v. 45, 102-145.

Bessen, James and Michael J. Meurer (2013), "The Private Costs of Patent Litigation," Journal of Law, Economics and Policy, 9, p. 59.

Bessen, James (2012), "A Generation of Software Patents," Boston University Journal of Science and Technology Law, 18(2), pp. 241-61.

Bessen, James, Jennifer Ford, and Michael J. Meurer (2011), "The Private and Social Costs of Patent Trolls," Regulation 34(4), pp. 26-35.

Chien, Colleen, Of Trolls, Davids, Goliaths, and Kings: Narratives and Evidence in the Litigation of High – Tech Patents, 87 N.C. L. Rev. 1571, 1572 (2009).

Chien, Colleen, From Arms Race to Marketplace: The New Complex Patent Ecosystem and Its Implications for the Patent System, 62 HASTINGS L.J. 297, 328 (2010)

Chien, Colleen (2013) Patent Trolls by the Numbers Santa Clara Univ. Legal Studies Research Paper No. 08-13

http://ssrn.com/abstract=2233041



Chien, Colleen, 2009. "Of Trolls, Davids, Goliaths, and Kings: Narratives and Evidence in the Litigation of High – Tech Patents," North Carolina Law Review, 87, pp. 1571-1615

Chien, Colleen (2012) Patent Assertion Entities, Presentation to the DOJ/FTC hearing on PAEs. Washington, DC, December 10, 2012. http://papers.ssrn.com/sol3/papers.cfm?abstract_id=2187314 .

Chien, Colleen (2012) . "Startups and Patent Trolls." Santa Clara University Legal Studies Research Paper No. 09-12 Working Paper Series, 2012.

Federal Trade Commission (FTC). "The Evolving IP Marketplace: Aligning Patent Notice and Remedies with Competition." March 2011.

Feldman, Robin, Thomas Ewing and Sara Jeruss. "The AIA 500 Expanded: Effects of Patent Monetization Entities" April 9, 2013. http://ssrn.com/abstract=2247195

Feldman, Robin (2013) Patent Demands & Startup Companies: The View from the Venture Capital Community, UC Hastings Research Paper No. 75

http://ssrn.com/abstract=2346338



Jeruss, Sara, Robin Feldman and Joshua Walker. "The America Invents Act 500: Effects of Patent Monetization Entities on US Litigation." 11 Duke Law and Technology Review pp. 357-389 (2012).

Lemley, Mark A. "Are Universities Patent Trolls?" Fordham Intellectual Property, Media & Entertainment Law Journal 63, no. 1 (2008): 611-631.

Lemley, Mark A. "Software Patents and the Return of Functional Claiming." Stanford Public Law Working Paper No. 2117302 Working Paper Series, 2012.

Lemley, Mark A. and Douglas Melamed. "Missing the Forest for the Trolls" Stanford Law and Economics Olin Working Paper No. 443, 2013.

Patent Freedom, Litigations Over Time, https://www.patentfreedom.com/about-npes/litigations/

Risch, Michael, 2012. "Patent Troll Myths," Seton Hall Law Review, 42.


Shrestha, Sannu K. 2011. "Trolls or Market-makers? An empirical analysis of nonpracticing entities," Columbia Law Review, 110, pp. 114-60.