By Dennis Crouch Chief Judge Rader recently argued that no patentable weight should be given to claim terms focusing on how a device is "configured to" perform a particular task. See Superior Industries v. Masaba (Fed. Cir. 2014) (concurring opinion). The Chief writes:
A system claim generally covers what the system is, not what the system does. Hewlett–Packard Co. v. Bausch & Lomb Inc., 909 F.2d 1464 (Fed.Cir.1990). Thus, it is usually improper to construe non-functional claim terms in system claims in a way that makes infringement or validity turn on their function. Paragon Solutions, LLC v. Timex Corp., 566 F.3d 1075 (Fed. Cir. 2009).
In Superior Industries, the patentee had claimed a dump truck with a "support frame . . . configured to support an end of an earthen ramp." On remand, the district court will need to determine again whether that language should be interpreted as a positive claim limitation.
One problem with Judge Rader's opinion is that other judges do not uniformly agree with his perspective. The diversity of court opinion compounds an already difficult process of understanding what potential structures are covered by function-focused claim terms. A third compounding difficulty is the rapid rise in the use of functional claim terms.
The Patent Act expressly provides for the use of functional claim language — written in means-plus-function format. 35 U.S.C. §112(f). The statutory requirements of §112(f) began being more strictly enforced in the mid-1990s and, as a consequence, means-plus-function limitations have fallen from favor. Meanwhile, patentees have caught-on to using "configured to" language as a rough equivalent of a means-plus-function claim term but carefully drafted in order to avoid actually falling under the ambit of that provision. The benefit then for patentees is that the functional language is broad and not limited to particular structural embodiments.
The chart below shows the percentage of issued patents that include at least one "configured to" claim limitation within an independent claim. This dramatic transformation of claiming strategy raises the importance of cases such as Nautilus v. Biosig Instruments (pending Supreme Court case on the proper standard for indefiniteness) and Lighting Ballast (pending en banc decision on claim construction deference with a focus on functional claim terms should be interpreted as falling within 112(f)).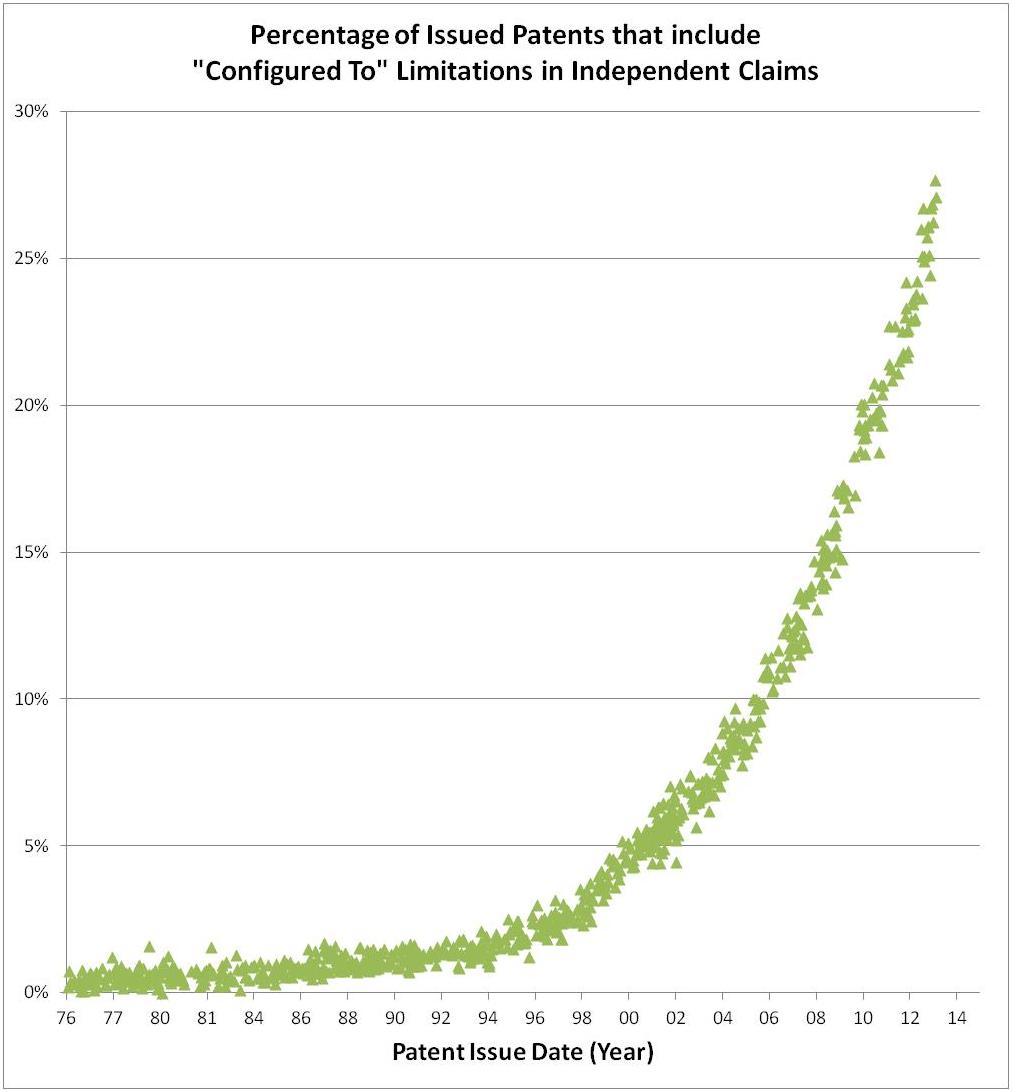 In Ex Parte Miyazaki, 89 USPQ2d 1207 (B.P.A.I. 2008), the Board of Patent Appeals revived the old precedent of Halliburton Oil Well Cementing Co. v. Walker, 329 U.S. 1 (1946) in holding that purely functional claim language is not allowable unless done within the scope of 112(f).
This general prohibition against the use of "purely functional claim language" (and the more specific Halliburton rule) has not been completely eliminated. Rather, "purely functional claim language" is now permissible but only under the conditions of 35 U.S.C. § 112, sixth paragraph, i.e., if its scope is limited to the corresponding structure, material, or act disclosed in the specification and equivalents thereof.
In Miyazaki, the problematic claim language was "a sheet feeding area operable to feed at least one roll of paper, at least one sheet of paper and at least one stiff carton toward a printing unit." In Halliburton, the problematic claim language was "a tuned acoustical means which performs the functions of a sound filter." In each case, the claims were found indefinite.