by Dennis Crouch
One difficulty with the US patent system is that the same rules of patentability are sometimes determined by a judge, other times by a jury, and, of course, most often by a patent examiner. A judge is typically an experienced lawyer and political heavyweight who receives substantial input from leading advocates on both sides of any argument. However, judges most typically have not technical expertise in the particular invention or its market. On the other hand, a patent examiner is typically a subject matter expert but comes with little or no legal training and who participates in an ex parte inquiry.  At yet another extreme, a jury also receives the benefit of input from both sides, but typically has no technical or legal training.
One difficult role that the USPTO takes-on is translating court decisions on patentability into administrable tasks for its examiner corps.  That task is perhaps most difficult in the realm of subject matter eligibility.
In a new set of training materials, the USPTO has attempted to provide some concrete guidance to its examiners on determining whether claims improperly encompass laws of nature, natural principles, natural phenomena, or products of nature. The updated guidance is necessary based upon the Supreme Court's decisions in Association for Molecular Pathology v. Myriad Genetics, Inc., 569 U.S. _, 133 S. Ct. 2107, 2116, 106 USPQ2d 1972 (2013), and Mayo Collaborative Services v. Prometheus Laboratories, Inc., 566 U.S. _, 132 S. Ct. 1289, 101 USPQ2d 1961 (2012).  The USPTO is awaiting outcome of the CLS Bank decision before providing parallel insight on examining claims for abstract ideas.
Although these guidelines do not have force of law, they are important because of their de facto power for the several hundred thousand pending patent applications.
The basic test, according to the USPTO is "whether a claim reflects a significant difference from what exists in nature" (patent eligible) or instead "whether a claim is effectively drawn to something that is naturally occurring" (not patent eligible).  Of course, the rub is the dividing line between these mutually exclusive categories.
The PTO provides the following flowchart: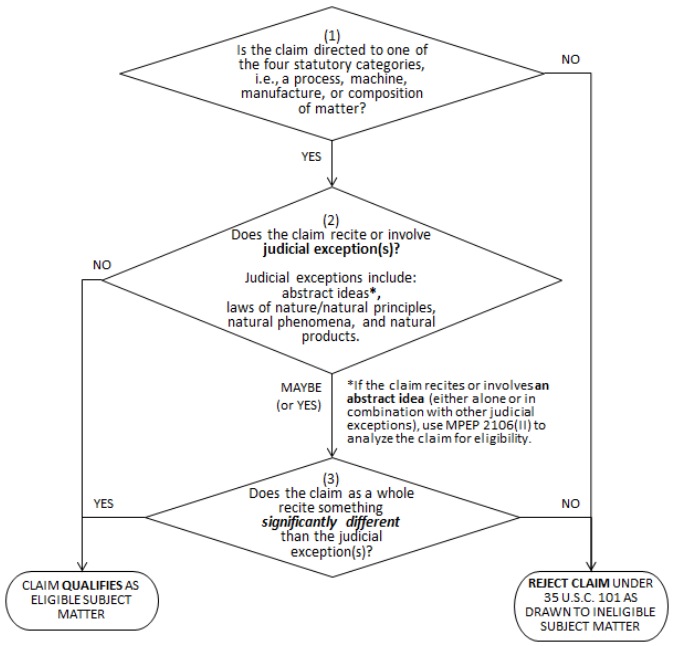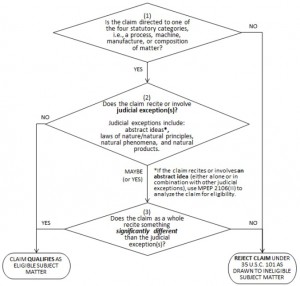 More later.