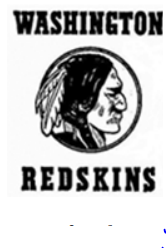 By Dennis Crouch
Blackhorse v. Pro Football, Inc. (TTAB Cancellation No. 92046185)
Today, the USPTO granted the cancellation of a group of trademark registrations that all include the term "Redskins" and that are owned by The Washington Redskins.
Under the law registration may be refused when a mark:
Consists of or comprises immoral, deceptive, or scandalous matter; or matter which may disparage or falsely suggest a connection with persons, living or dead, institutions, beliefs, or national symbols, or bring them into contempt, or disrepute.
15 U.S.C. § 1052.
In the cancellation proceedings, the challengers (a group of Native American individuals), were able to establish that the mark was disparaging to Native American persons as used in relation to the Professional Football team and thus, as the USPTO writes in a press release "in accordance with applicable law, the federal registrations for the 'Redskins' trademarks involved in this proceeding must be cancelled."
Perhaps the strongest defense put forward by the team owners was that the mark was old, well used, and the subject of significant investment. However, the Trademark Trial and Appeal Board rejected that argument – finding it inapplicable to the particular claimants here since none of them unreasonably delayed in bringing the cancellation action.
The TTAB decision was not unanimous – Judge Bergsman dissented – arguing that the petitioners did not provide sufficient evidence that the marks were disparaging at the time they were registered (1960s – 1990s).
Next steps:
The team owners may ask for rehearing or may take the case to Federal Court where the Supreme Court may have the final word.
A trademark registration is not required in order to use a mark. Thus, the team owners can continue to use the mark. In addition, trademark rights continue to be strongly protected by state law and thus, even if the decision sticks, the team may still have protection in the various states.
Prof Rantanen also points out that the mark may still be protectable under Section 43(a) as an unregistered mark, but that the law is unsettled. One take is here: Renna v. County of Union, 2014 WL 2435775 (D.N.J. May 29, 2014).