By Dennis Crouch
The Patent Trial and Appeal Board (PTAB) is burdened with a statutory mandate to quickly reach final determination in its post-issuance review trials. To meet that requirement, the PTAB has put tremendous resources into its trial teams to ensure sufficient bandwidth to handle the hundreds of inter partes trials. At the same time, a 25,000 case backlog of pending ex parte appeals persists at the Patent Trial and Appeal Board.  Those cases do not have as clear of a statutory-mandate for rapid processing and, as a result, have clearly languished as the Board developed its post-issuance review trial program with most cases now waiting more than three years for a decision from the Board. (Notice-of-Appeal to Board Decision).  Rather than dealing with its poor statistics, the PTAB appears to have simply stopped publishing them.
For many patent applicants (though certainly not all), the appeal delay is costly because it extends a period of ambiguity and it delays issuance of the patent rights.  Certainly, the vast majority of long-pendency patent applications (those that issue more than 7 years after filing) spent considerable time in the appeal queue awaiting a reversal of an examiner rejection. Those late-issued patents have the potentially of being disruptive to marketplaces that have developed and grown in the absence of an issued patent.
A few months ago, I conducted what I called a "10-second"survey on Patently-O regarding the potential market for accelerated PTAB decisions in ex parte cases.  I asked:
Would you pay an extra $5,000 for accelerated PTAB decisions in ex parte cases that issue[] within nine months rather than waiting the standard 2 1/2 years?
I should note that the 2 ½ year figure had increased. The results are instructive and somewhat fit the model seen with the $4,000 fee for prioritized "track one" examination, although the market for accelerated appeals seems somewhat greater.  The vast majority of the 614 responses indicated that they would use the fast track in at least some cases – with most indicating that the fast track would be used in >5% of cases.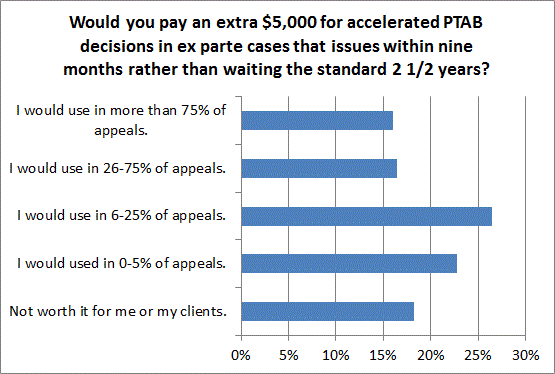 Although not any final word on the market for accelerated appeals, the chart is indicative of a demand for accelerated appeals.  And, although not a solution to the docket problem, acceleration of a subset of appeals offers the potential of alieviating the most some of the more pointed needs.
I should note here that a subset of accelerated examination cases ("made special") are also accelerated when pending before the PTAB. However, those do not include prioritized examination cases under the pay-for-speed program.  I do not have any statistics on how that acceleration impacts the timing of appeals.