by Dennis Crouch
The Patent Act opens the door to patenting of "any new and useful process, machine, manufacture, or composition of matter." In recent years, the patenting of processes in particular (or at least process claims) has risen sharply. The chart below shows the percentage of patents with at least one independent method or process claim, grouped by issue year.* Over the past 30 years, the percentage of method patents has risen from around 30% of patents to almost 60% today.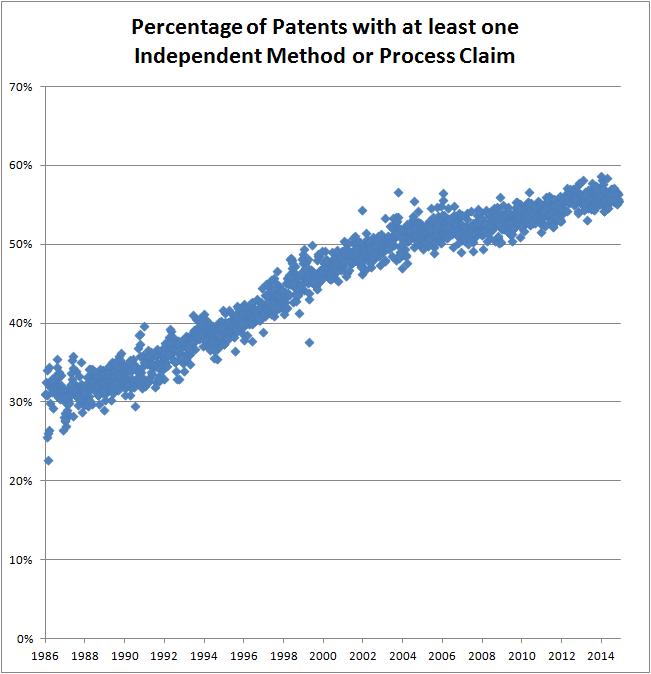 * For this data, I parsed each independent claim of each issued patent for the past 30 years and tallied the number of patents that included the word "method" or "process" within the claim (excluding processor, etc.).

Some of these claimed method are new uses of known products as well as new processes for manufacturing a known product. It may be difficult to even draft an apparatus claim in those cases (other than product-by-process) when the invention does not involve the creation of any new device or system. These new-use claims are expressly authorized by Section 100(b) of the Patent Act that defines a process as including "a new use of a known process, machine, manufacture, composition of matter, or material."  (cf Alice Corp.).
On the other hand, the majority of method claims are tied to some form of new apparatus/software.  In that situation, it is legally appropriate and often good strategy to protect the apparatus as well as methods performed by the apparatus, methods of using the apparatus, and/or methods of manufacturing the apparatus.  
By adding the method steps, a patentee is able to include fewer structural limitations and still obtain protection.  It is perhaps that potential of altered scope – more than anything else – that gives method claims their power.

Of course, most patents still also include non-method claims too.  The chart below splits these into three categories and displays.