By Jason Rantanen
A question from two economist friends, Nicholas Ziebarth and Michael Andrews, got me interested in the geographic distribution of patent practitioners in the U.S. and any correlations with issued utility patents and populations.  Using the January 8, 2017 list of patent practitioners from the USPTO, the PTO's data on utility patents issued to inventors by state, and population estimations for 2016 (wikipedia), I put together the following figures.  They show what one might expect: patents, population and patent attorneys exhibit high degrees of correlation, although there is some interesting variation.  All the linear regressions are highly significant (p<0.001).  Some data caveats follow.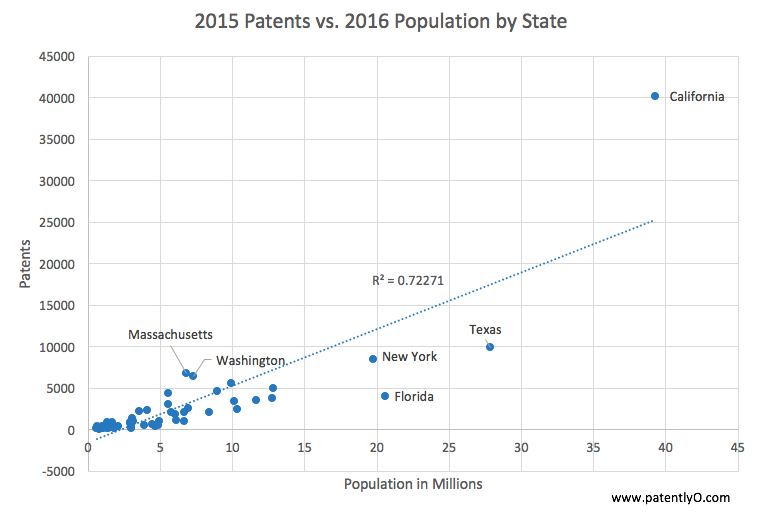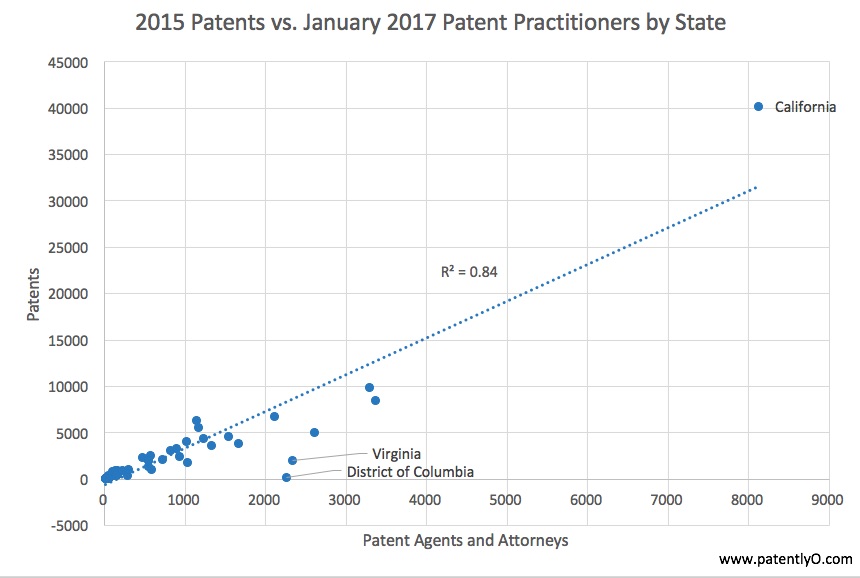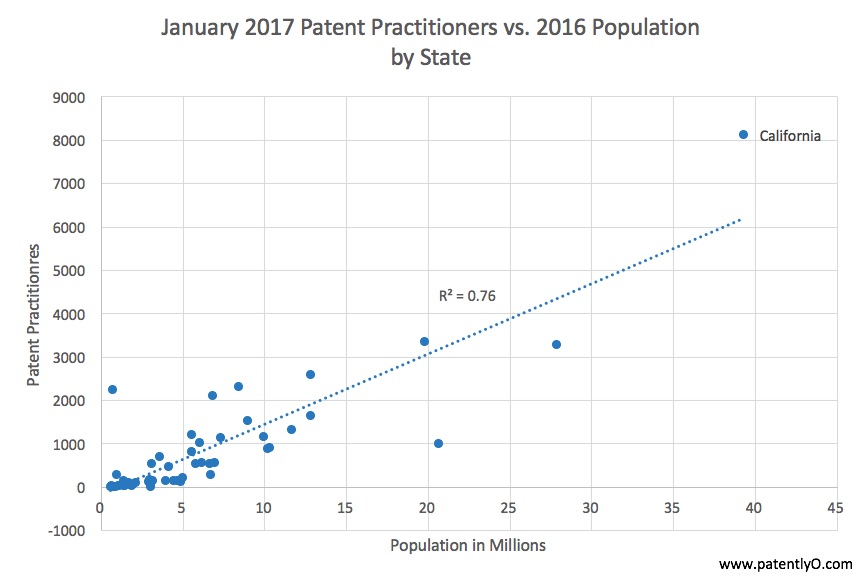 California is a clear outlier, as is probably D.C.  In the below charts I've removed California.  As you can see, the correlation coefficient goes down.  It's not apparent due to the scaling of the graphs, but the slope of the line also goes down.  Removing D.C. (where there are lots of registered patent practitioners but few inventors) has the opposite effect when it comes to patents/patent practitioner.  To give another sense of the magnitude of the California effect, 19% (8124/43542) of this set of patent practitioners are California residents and 29% (40/196/140928) of this set of patents has a first named inventor who was a California resident.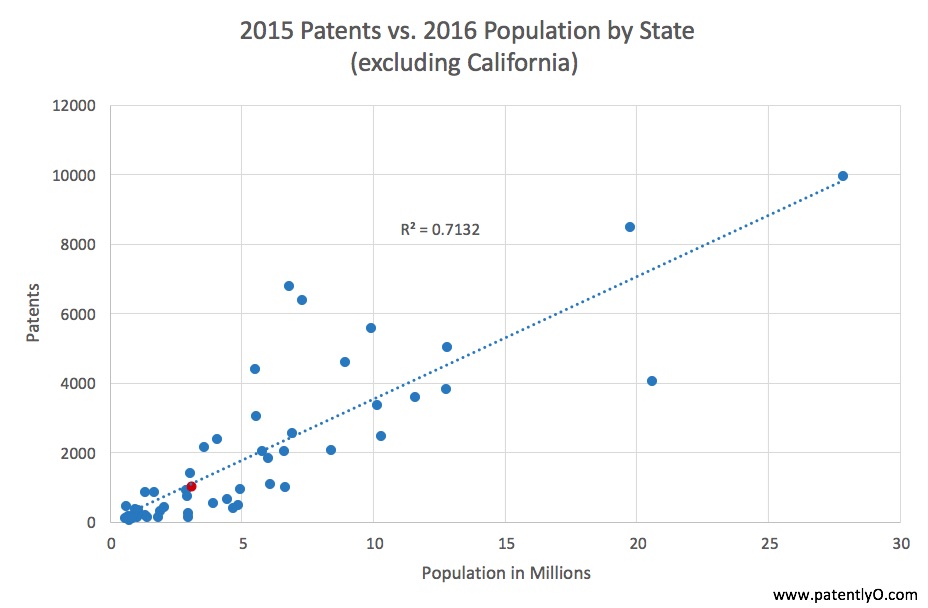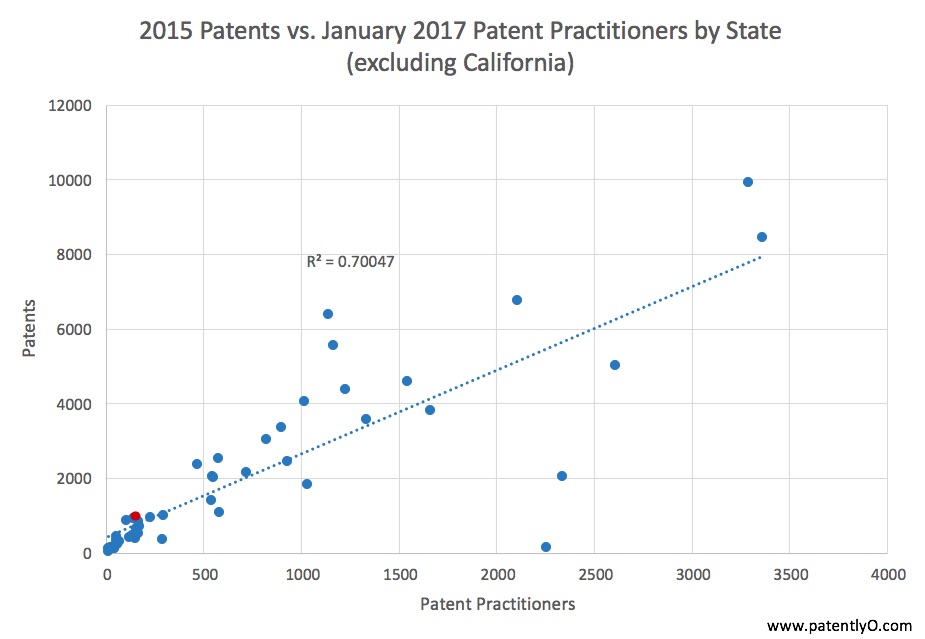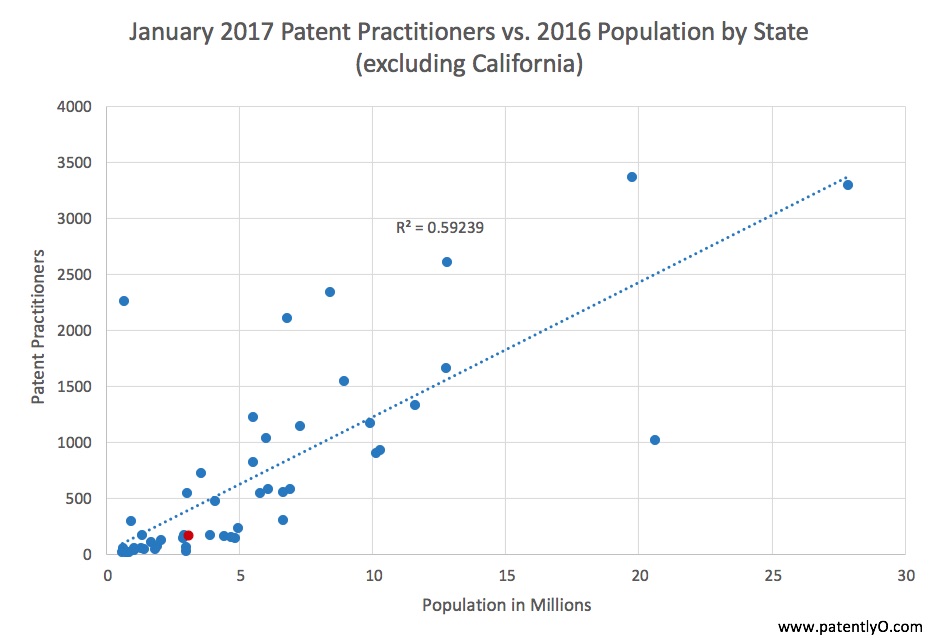 (Iowa is marked in red.  We have a lower than average number of patent attorneys per population but a slightly higher than average number of patents with U.S. inventors per patent attorney.)
Notes on the data:
This analysis entirely ignores patents whose first named inventor is not resident in the 50 states and District of Columbia and patent practitioners who do not reside in those places.  When it comes to patents, this is big: since 2009, over half of issued patents have had a first-named inventor who was not a U.S. resident. It's less of an effect with patent practitioners: of the 44,897 registered practitioners, 43,579 are U.S. residents.
The patent attorney list is subject to concerns about whether it is overinclusive, as discussed in Zachary Kinnaid's previous posts, and how up-to-date the addresses are.  This comparison also involves data from different years (1/1/2017 versus patents granted in 2015), although there probably isn't much a change in terms of geographic distribution of patent attorneys over the time. In addition, many registered patent attorneys do not currently engage in patent prosecution activities.
The data on patents-per-state is based on the residence of the first named inventor.   This means that the other inventors are ignored in this analysis.  It also means that assignments are not reflected.
My data file is linked if anyone wants to play around with it.  Regression outputs from Stata are here.  If you see any mistakes, I'd appreciate it if you'd let me know via email.  You are free to reuse this dataset or graphs, although I would appreciate an acknowledgement.