This is the second guest post coming from Michigan Law Professor Nicholson Price's seminar merging science fiction and legal analysis.  The author here – Kamie Cashette points her sights on the 2015 novel by American SciFi author Paolo Bacigalupi – The Water Knife. – DC
Guest Post by Kamie Cashette
Paolo Bacigalupi's novel The Water Knife depicts the American Southwest in the not-so-distant future. Climate change has exacerbated an already scarce water supply, corporate interests have severely weakened the federal government, and states fight for water rights in ways that put Don Corleone to shame. State water agencies send employees to engage in guerrilla warfare-style tactics, like blowing up water-treatment plants and bombing dams, to make sure their territories come out on top. The places that do not manage to secure enough precious water rights, like Arizona, house masses of refugees desperate to escape to water-wealthy havens.
The world portrayed by The Water Knife strikes a particularly terrifying chord, mostly because of how plausible it seems. Bacigalupi makes painstaking efforts to incorporate modern day references into the book, from the third intake valve in Lake Mead that finished construction in 2015 to the image of a toothless Britney Spears. Moreover, the impending disappearance of the water supply in major cities like Cape Town, South Africa[1] further bridges the gap between the dystopian universe portrayed in the book and reality.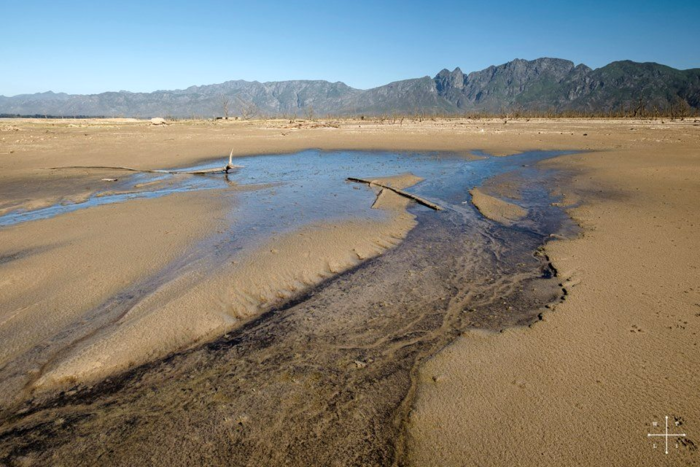 [2]
Bacigalupi's world also seems to fit into a potentially realizable legal sphere. Today, Western states follow the prior appropriation doctrine to allocate water rights: someone who established a use of water decades or even a century ago has a higher priority over that usage than someone who begins tapping into that water today.[3] In other words, all junior water rights holders lose all of their water before the senior water rights holder has to give up a single drop. In a world of water scarcity, that makes senior water rights invaluable.
The Water Knife takes the legal framework of water rights in the West and realistically portrays the incentivized behavior in situations of extreme resource scarcity. The book centers around water rights "senior to God" that give Phoenix, Arizona some of the most senior rights on record. If Phoenix had knowledge of those rights, it would have legal claim to the water before any other state, giving it the ability to rise from its drought-induced ashes and to lay waste to its neighboring competitors. The lengths people are willing to go to in the book to get their hands on the water rights illustrates how a system of senior water rights in a situation of resource scarcity compels actors to fight each other tooth and nail instead of cooperating. As one of the characters remarks, a "[l]ot of people end up dead around these rights."
Moreover, while the book's portrayal of militant states and the practically non-existent role of the federal government seems outrageous, it may be within the realm of possibility. In The Water Knife, Congress passes a piece of legislation called the State Sovereignty Act, which allows states to stop U.S. citizens from other states from crossing into their borders. Freedom of movement between states has long been recognized as a fundamental constitutional right, and any suspension of that right is subject to strict scrutiny.[4] However, as the infamous decision of Korematsu v. United States[5] illustrates, rights subject to strict scrutiny have yielded to emergency and security concerns in the past. A drought so severe that it causes entire states to utterly collapse as Bacigalupi depicts could arguably fit that bill.
While the predicted Water Knife world is plausible, it is certainly not set in stone. State and local governments are trying to step in to mitigate the effects of climate change where the federal government has not. Among these efforts are lawsuits filed by cities across the country against oil companies for their contributions to global warming.[6] Additionally, on the national level, Professor Rhett Larson proposes shifting from an environmental policy paradigm hinging on climate change to one based on water security.[7] Larson also suggests using a regional approach to water security based around water basins instead of a state-by-state prior appropriations system. A book like The Water Knife that highlights the dangers of the Western water rights system and water insecurity in general makes an approach like the one advocated for by Larson more salient, and it sends a clear warning about what the future could hold. Whether the United States heeds that warning remains to be seen.
= = = = =
Notes
[1] James Longman, The Apocalyptic Atmosphere in Cape Town as Residents Struggle to Survive: Reporter's Notebook, ABC News (Feb. 21, 2018, 1:06 PM), http://abcnews.go.com/International/reporters-notebook-apocalyptic-atmosphere-cape-town-residents-struggle/story?id=53217859.
[2] Jon Kerrin, Theewaterskloof Dam, South Africa, South African (2017), https://www.thesouthafrican.com/wp-content/uploads/2017/03/Jon-Kerrin-Theewaterskloof3.jpg.
[3] See, e.g., Prior Appropriation Law, Colo. Dep't Nat. Resources, http://water.state.co.us/surfacewater/swrights/pages/priorapprop.aspx (last visited Feb. 23, 2018).
[4] See, e.g., United States v. Wheeler, 254 U.S. 281, 293 (1920); Saenz v. Roe, 526 U.S. 489, 500 (1999).
[5] 323 U.S. 214 (1944).
[6] See, e.g., David Zahniser, L.A. Lawmakers Look to Sue Big Oil Companies Over Climate Change—And the Costs that Stem from It, L.A. Times (Jan. 13, 2018, 5:00 AM), http://www.latimes.com/local/lanow/la-me-ln-climate-change-lawsuit-20180113-story.html.
[7] Rhett B. Larson, Water Security, 112 Nw. U. L. Rev. 139 (2017).