by Dennis Crouch
Disc Disease Solutions v. VGH Solutions (Fed. Cir. 2018) [17-1483.Opinion.4-27-2018]
Disc Disease's asserted patents relate to an inflatable air-brace for spinal support. U.S. Patent Nos. 8,012,113 and 7,618,509. The accused infringer sells three different inflatable spinal braces.  However, after considering the complaint filed by Disc Disease, the district court dismissed the case with prejudice for failure to state a claim upon which relief can be granted (R.12(b)(6)).  In the process, the district court rejected Disc Disease's request to file a first amended complaint.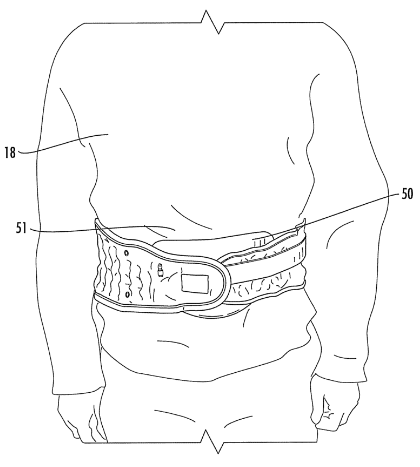 The timing of the complaint filing is somewhat important. It was filed on November 30, 2015 — the day before the rules of Civil Procedure were officially amended to eliminate the short-form patent complaint (Form 18).   Prior to that change, "Form 18 in the Appendix of Forms provided a form adequate to plead a direct infringement patent claim. See In re Bill of Lading Transmission & Processing Sys. Patent Litig., 681 F.3d 1323, 1334 (Fed. Cir. 2012)." Although the rules of Civil Procedure liberally allow plaintiffs to file a first-amended-complaint, the court here held that Disc Disease's request to amend was not filed in a timely fashion and thus was appropriately rejected.
Under Iqbal and Twombly, a complaint must include allegations of fact sufficient to allow a "reasonable inference that the  defendant is liable for the alleged misconduct."
Here, the complaint identified each of the alleged infringing products and then broadly alleged that the products meet "each and every element of at least one claim" of each asserted patent.  The claims did not include a claim chart, reference to any specific claim, or any specific element-by-element analysis.  Noting those failures, the district court ruled that the complaint lacked plausibility because it failed to "explain" the alleged infringement.
On appeal, the Federal Circuit has reversed — holding that the broad infringement allegation is sufficient under Iqbal/Twombly — at least for this relatively simple case. The court writes:
Disc Disease's allegations are sufficient under the plausibility standard of Iqbal/Twombly. This case involves a simple technology.
The asserted patents, which were attached to the complaint, consist of only four independent claims. The complaint specifically identified the three accused products—by name and by attaching photos of the product packaging as exhibits—and alleged that the accused products meet "each and every element of at least one claim of the '113 [or '509] Patent, either literally or equivalently." These disclosures and allegations are enough to provide VGH Solutions fair notice of infringement of the asserted patents. The district court, therefore, erred in dismissing Disc Disease's complaint for failure to state a claim.
Judge Reyna's decision here decides the case at hand, but does not provide substantial guide-posts beyond the general rule – Provide Fair Notice.  What we do know is that in a simple case it will be sufficient to simply identify (1) the patents being asserted and (2) the products being accused.