by Dennis Crouch
National Institute of Standards and Technology (NIST) (a branch of the Department of Commerce) has announced a new initiative to "improve federal technology transfer" along with a Request for Information (RFI) published in the Federal Register.  The government is looking to "gather information about the current state of Federal technology transfer and the public's ability to engage with Federal laboratories and access federally funded R&D through collaborations, licensing, and other mechanisms."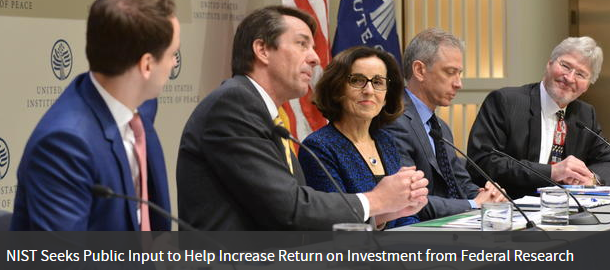 The agency is broadly seeking for comments on topics including:
Best practices in federal technology transfer (what are we doing right . . . and wrong);
Improving efficiency and reducing regulatory burdens in order to attract private sector investment in later-stage R&D, commercialization, and advanced manufacturing;
Ideas for new partnership models with the private sector, academia, other Federal agencies.
Metrics and methods for evaluating the ROI outcomes and impacts arising from Federal R&D investment; and
Mechanisms for significantly increasing technology transfer outcomes from the Federal sector, universities, and research organizations.
Looming large in the background of current Federal Policy is the the Bayh-Dole Act that allows universities and companies to privately patent the results of federally funded research.  In two-years, Bayh-Dole will have its 40th Anniversary — thus the "quarantine" title.
Notes:
Comments due by 5:00 p.m. Eastern time on July 30, 2018 to roi@nist.gov.