JTEKT Corp. v. GKN Auto (Fed. Cir. 2018)
GKN's Patent No. 8,215,440 covers a 2wd/4wd dual drivetrain.  This general type of drivetrain was already well known in the automotive industry — and the claims of the patent appear to my eyes to be quite broadly written.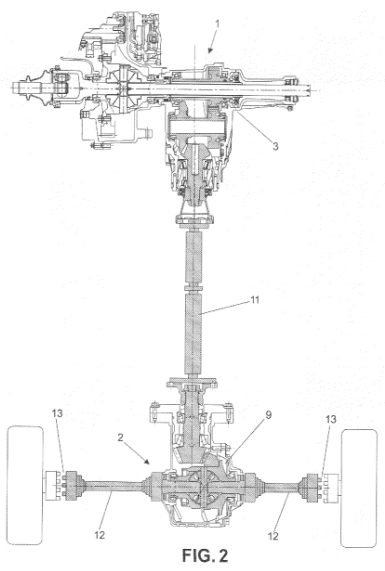 JTEKT (a subsidiary of Toyota) makes automotive components.  Although JTEKT does not yet have a competing product on the market, saw the '440 patent as a major roadblock and filed an Inter Partes Review (IPR) proceeding — asking the USPTO to cancel the patent claims. During the IPR, GKN disclaimed the broadest claims — and the PTO confirmed the validity of the remaining claims. (The key limitation appears to be that the system coupling is "without a differential gearing".)
On appeal the Federal Circuit has refused to hear the case — finding that the case lacked Constitutional standing since JTEKT had not alleged any "actual injury."  The case here follows Phigenix, Inc. v. Immunogen, Inc., 845 F.3d 1168 (Fed. Cir. 2017).  In that case the patent challenger Phigenix was not planning to actually use the Immunogen patent, but argued its injury was based upon the competitive advantage that the patent gave to its owner.  Although that injury might be sufficient for standing purposes — the Federal Circuit still dismissed the case because Phigenix failed to present sufficient facts to make the injury plausible.
Standing is an oddball with IPRs.  Anyone can file an IPR request and the USPTO will consider that request.  The Patent Act directly states that a losing petitioner has a right to appeal if it loses the IPR.  (A party "who is dissatisfied with the final written decision of the Patent Trial and Appeal Board . . . may appeal the Board's decision . . . to the United States Court of Appeals for the Federal Circuit." 35 U.S.C. § 141(c).) Still, the Supreme Court has repeatedly held that the Constitution requires an actual controversy between the parties — and that the Article III courts cannot offer advisory opinions. A particular element in question for appellate IPR standing is injury-in-fact —  "an injury that is both 'concrete and particularized.'" Spokeo, Inc. v. Robins, 136 S. Ct. 1540 (2016)(non-IPR case).
In ordinary lawsuits, this sort of standing is established at the lower court level. Here, however, it must be done at the appellate level (since the PTO doesn't worry about the issue).  On appeal, JTEKT was given an opportunity to provide evidence of injury-in-fact – but failed:
While JTEKT has submitted two declarations in support of its standing, JTEKT's problem is that these declarations do not establish that its planned product would create a substantial risk of infringing [the particular claims on appeal] or likely lead to charges of infringement.
Appeal dismissed.
Note here – Folks interested in this issue should consider the pending Supreme Court petition in RPX Corporation v. ChanBond LLC (SCT Docket No. 17-2346).