By Professor Sarah Burstein, University of Oklahoma College of Law
In re Maatita (Fed. Cir. 2018) – Dyk (author), Reyna & Stoll
[Professor Crouch already summarized the facts and the basics of the court's decision here. I don't want to re-cover the same ground but I will note this isn't the first time Judge Dyk has engaged in what Professor Crouch aptly describes as design patent "cosplay layering." See In re Seaway, which I discuss at FN 131 here.]
So, this is bad. This is really bad.
Maatita claimed a three-dimensional design for a "Shoe Bottom." He illustrated the design he sought to patent with a single view, as shown below:

A U.S. design patent can only claim one design. Multiple embodiments of the same design may be claimed "only if they involve a single inventive concept according to the nonstatutory double patenting practice for designs." MPEP § 1504.05.
The PTO viewed Maatita's drawing as a claim for multiple "designs." As the examiner's illustrations (shown below) demonstrate, the segments of the shoe portion shown in Maatita's drawing could—without more information—cover shapes of varying depth and could be either convex or concave:
And those are just a few examples of the range of three-dimensional designs potentially covered by Maatita's claim. The PTO rejected Maatita's claim under § 112 because it failed to make clear which of those designs was actually being claimed.
The Federal Circuit reversed. According to the Federal Circuit, a design patent claim is indefinite only "if it includes multiple, internally inconsistent drawings" or if "there are inconsistences between the visual disclosure and the claim language."
Here, according to the Federal Circuit, it was perfectly clear what Maatita was claiming—namely, a configuration of indeterminate and potentially variable depth. In other words, the court found it clear (and was apparently untroubled by the fact) that Maatita was disclaiming "the relative depths and three dimensionality between the surface." Thus, according to the Federal Circuit, the claim was neither indefinite or non-enabled under § 112.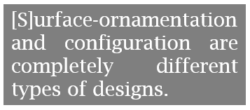 To support its conclusion, the court conflated configuration and surface-ornamentation designs. According to the court, if a design for the surface ornamentation of a rug can be illustrated using a single "two-dimensional, plan- or planar-view," there was no reason why a configuration design of indeterminate depth could not be so claimed, as long as it was clear what angle the ordinary viewer should view the design from. But surface-ornamentation and configuration are completely different types of designs. They should not be treated the same in all instances. The fact that an ordinary observer would view the surface-ornamentation design for a rug to be "the same" design (which is, after all, the test for infringement) whether it was used in a high-pile or low-pile rug does not mean that an ordinary observer would think that all of the shoe-sole designs claimed by Maatita were, in fact, "the same" design. Consider the examiner's examples shown above. If a design patent claimed one of those, it wouldn't be infringed by the others. If they're not considered "the same" design for the purposes of infringement, they should not be considered "the same" design for the purposes of § 171.
If Maatita is read as holding that a 3D design of indeterminate depth is, in fact, a single "design" under § 171, then the Federal Circuit has radically redefined the concept of a patentable "design" to a degree not seen since In re Zahn (I discuss that decision in Section III(A)(2) here). In Zahn, the CCPA said it was okay to claim a "design" for the configuration of just a portion of an article of manufacture. Post-Zahn, applicants could craft claims that would be infringed even if the overall shape of the article differed, as long as the claimed portion looked the same.
But at least in Zahn, it was clear what the claimed portion looked like. Maatita has opened the door to design claims of unprecedented (or, at least, not previously judicially-sanctioned) breadth. It is true that the PTO already allowed applicants to claim designs of indeterminate length using brackets or similar drawing conventions. But it's very different to say that a design for, say, crown molding is "the same" whether it's six inches or six feet long, and quite another to say that all the shoe-sole configuration variations above (let alone the numerous other potential variations) are "the same."
Moreover, unlike design patent examiners, patent attorneys and agents are not required to have any training in design. It may, therefore, be difficult for them to imagine and effectively communicate (e.g., by drawing) the scope of Maatita-type claims. This adds a further layer of complexity and potential peril for clients who wish to clear their new designs and determine their freedom to operate.
I hope the PTO will seek to have this case reheard en banc. Or even petition for certiorari. If they don't, I hope that they will reject this claim on remand under § 171 on the grounds that it claims more than one "design for an article of manufacture." After all, the Federal Circuit did not directly rule on that issue—though, admittedly, parts of the decision may be read as supporting that view. The better view is that those parts were merely instances of accepting Maatita's views for the purposes of argument, since the single-design issue wasn't necessary to the court's ultimate disposition of the § 112 issues.
It may be that this decision is simply a part of a larger Federal Circuit campaign to, as Professor Crouch puts it, "undermin[e] . . . the indefiniteness doctrine." But I'd like to suggest that this is yet another example of the evil Zahn hath wrought, with its radical redefinition of what constitutes a "design." If the "design" mentioned in § 171 is whatever the applicant says it is, it's difficult to see how courts will ever be able to apply § 112 in a coherent or logical way. (Of course, the word "design" itself isn't terribly helpful in and of itself as I discuss in more detail here.) Perhaps this case is just another sign that the time has come for a re-appraisal of what types of "designs" U.S. design patent law can—and should—protect.
= = = =
Prof. Burstein tweets about design patents @design_law
This painting is amazing! Also a good candidate for transformative work of the day: https://t.co/nHDOR2Giqo

— Sarah Burstein (@design_law) August 27, 2018