Blackbird Tech LLC v. ELB Electronics, Inc. (Fed. Cir. 2018)
In a short order, the Federal Circuit has denied ELB's petition for en banc rehearing in this case — the petition had raised particular issues regarding the proper methodology for construing patent claims.
Construing claim terms in the context of the specification and preamble; and
Construing claim terms in a way that provides a scope commensurate with the disclosure.
In the original Federal Circuit opinion from July 2018 the Federal Circuit vacated a lower court judgment of non-infringement after finding that the District Court had improperly read a limitation from a disclosed embodiment into the claim.
Blackbird Tech's US patent at issue (7,086,747) is directed to an LED light fixture designed to retro-fit to the space of old tubular fluorescent light fixture having a ballast cover.  The claims particularly require a "housing having an attachment surface."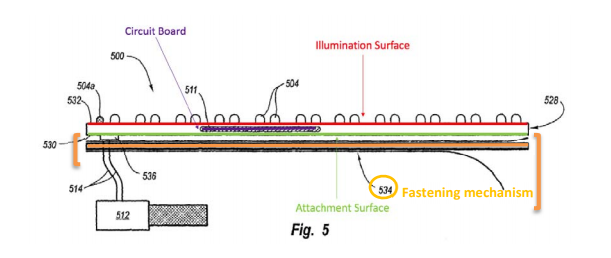 Although not required expressly by the claims, the district court concluded that the attachment surface must include a fastener to connect the attachment surface to the ballast cover — since that was the only way shown by the patent.  On appeal, however, the Federal Circuit rejected that construction:
We do not agree that this fastener limitation should be imported into the claim.

There is no suggestion in the specification or prosecution history that this fastener is important in any way that would merit reading it into claim 12. In fact, in describing the embodiment in Figure 5, the specification explains that the fastening can be achieved by "many different types of fastening mechanisms" including "an adhesive strip" (think tape), "a magnet, clips, screws, etc."  It never refers to this run-of-the-mill fastener as the "present invention" or "an essential element" or uses any other language that would cause the ordinarily skilled artisan to believe that this fastening mechanism is an important component of the invention or that it is critical to the invention for any reason.
In the original panel decision, Judge Moore penned the majority decision and was joined by Chief Judge Prost.  Judge Reyna filed a dissent — concluding that the "attachment surface" limitation is an element of the claimed retrofit function of the invention and should be attachable to something in the old housing. Judge Reyna writes: "The plain language of claim 12, read in the context of the specification, implicitly requires that the attachment surface be secured to the ballast cover to achieve the retrofit function."
The basic debate here stems from the reality that the canons of construction conflict with one another.   The unfortunate result though is the old-fallback that claims mean what the Federal Circuit says they mean.