by Dennis Crouch
Absent a more creative solution, the current Federal Government shutdown will continue until a new appropriations law is passed by Congress and signed by the President (or veto-overridden).  The Patent Office (USPTO) is caught-up in this, but in a little bit of a quirky way.
The USPTO is a fee funded agency.  Generally, patent applicants pay the USPTO, and the USPTO uses that money to pay the examiners.  However, Congress has not provided USPTO with authority to simply spend whatever it collects. Rather Congress declares annual appropriation amounts that may be spent – if collected.  If the USPTO brings-in more funds than appropriated then it can put those funds in a "Patent and Trademark Fee Reserve Fund" held by the US Treasury.
And, under the Patent Act, the USPTO can only spend funds that have been appropriated to the Agency.  As a consequence, the USPTO cannot spend new-money coming in the door and it cannot spend money in the aforementioned Reserve Fund (that is empty anyway).
So, how is the USPTO Operating:  The USPTO has continued to operate for the past 25 days without much of any slowdown — paying its employees and contractors. Over the past several years, the PTO has begun placing some amount of appropriated spending into an "Operating Reserve" — treating the money as spent for the purposes of appropriations, even though it hasn't really been spent.  The Administration has determined that it is proper to save that money on an annual basis and to spend the money now on operations despite the lack of an appropriations bill.  This same approach has been used in the recent prior shutdowns as well and is a primary justification for the fund in the first-place.
Although the Agency's goal is to have three-months operating reserve, it only had about five-weeks set aside (~$320 million) at the start of the shutdown.  Funds have not yet run-out, but they are now dwindling.
The chart below comes from the 2018 PPAC Annual Report. In that report, the PPAC suggested that the optimal balance be boosted to $700 million+. Once the reserve reaches that amount, the PPAC would then consider suggesting reduction in fees.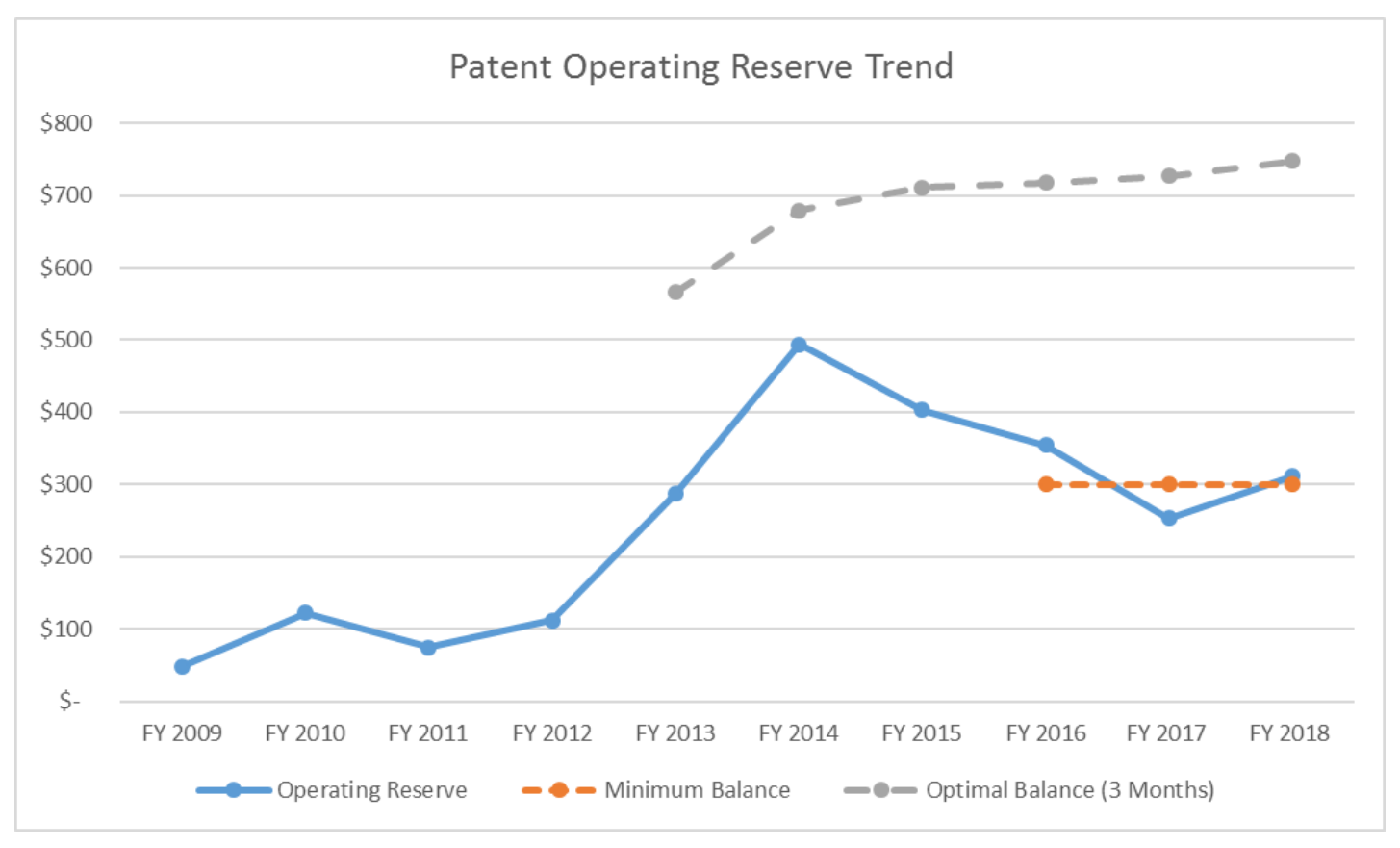 When the Funds Run Out: The USPTO has indicated that once those funds are too-low, the PTO will shut down examination activity.  However, the Agency will keep a small-staff working (perhaps unpaid) "to receive new applications and any other examination, post-examination, post-issuance, and PTAB or TTAB filings; receive payments related to such filings; and maintain IT infrastructure, among other functions."
Congratulations to the PPAC members, PTO Directors, and especially Tony Scardino (PTO Chief Financial Officer since 2010) for their forethought and dedication to this important issue that is now serving the patent community.