by Dennis Crouch
University of Florida Research Foundation, Inc. v. General Electric Company (Fed. Cir. 2019)
UF's asserted patent is titled "Managing Critical Care Physiologic Data Using Data Synthesis Technology." U.S. Patent No. 7,062,251.  From the patent title, keen Patently-O readers will recognize a potential eligibility problem.  N.D.Fla. District Court Judge Mark Walker dismissed the case on a R.12(b)(6) motion without taking any evidence — finding the asserted claims ineligible as a matter of law. On appeal, the Federal Circuit has affirmed.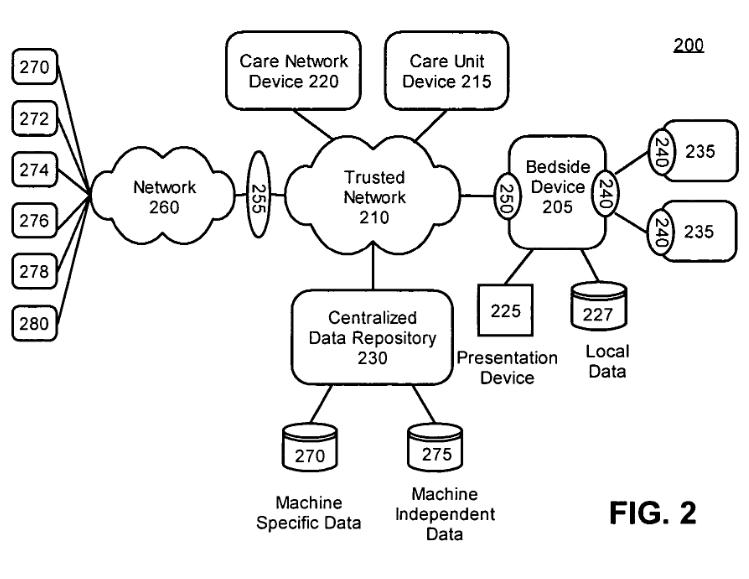 Sovereign Immunity: Before reaching the merits of the eligibility claim, the Federal Circuit first addressed Florida claim of Sovereign Immunity under the 11th Amendment of the U.S. Constitution.  In a prior decision, the PTAB refused to consider an inter partes review (IPR) challenge of the '251 patent based upon sovereign immunity grounds. IPR2016-01275 (note – this is a questionable decision under St. Regis Mohawk).
The 11th Amendment has been seen as quite strong — preventing the Federal Courts from hearing "any suit in law or equity, commenced or prosecuted against one of the United States by Citizens of another State, or by Citizens or Subjects of any Foreign State." U.S. Const. amend. XI.
The for UF here is Waiver — UF filed the infringement lawsuit against GE and GE raised invalidity as a defense.  The Federal Circuit has clear precedent that "a state waives its Eleventh Amendment immunity when it consents to federal court jurisdiction by voluntarily appearing in federal court." Regents of the Univ. of N.M. v. Knight, 321 F.3d 1111 (Fed. Cir. 2003).  As the court explained in a prior case, "the Eleventh Amendment applies to suits 'against' a state, not suits by a state." Regents of the Univ. of Cal. v. Eli Lilly & Co., 119 F.3d 1559, 1564–65 (Fed. Cir. 1997).
Eligibility as a Defense: As part of its holding, the court continued-on to explain that lack-of-eligibility is a proper defense:
Even if § 282 did not extend to a § 101 eligibility challenge, such a challenge would still be a defense to a claim
of infringement. [Since w]e and the Supreme Court have long treated § 101 eligibility as a "condition[] of patentability" alongside §§ 102 and 103.
An interesting aspect of the court's explanation here is the two citations that it uses:
Versata Dev. Gr., Inc. v. SAP Am., Inc., 793 F.3d 1306, 1330 (Fed. Cir. 2015) ("It would require a hyper-technical adherence to form rather than an understanding of substance to arrive at a conclusion that § 101 is not a ground available to test patents.");
Aristocrat Techs. Austl. PTY Ltd. v. Int'l Game Tech., 543 F.3d 657, 661 (Fed. Cir. 2008) ("It has long been understood that the Patent Act sets out the conditions for patentability in three sections: sections 101, 102, and 103.").
The "hyper-technical" admonishment of Versata can be juxtaposed to the hyper-technical holding in Aristocrat holding the improperly reviving an abandoned patent cannot be a defense in patent cases because it does not fall within Section 282. Id. ("The salient question, then, is whether improper revival is "made a defense" by title 35. We think that it is not.")
Eligibility Analysis: Moving now to the merits, the court looked at representative claim 1 that is directed toward "a method of integrating physiologic treatment data" and that requires steps of :
receiving physiologic treatment data from at least two bedside machines;
converting [the] data from a machine specific format into a machine independent format within a [remote] device …;
performing [a] programmatic action involving [the] data; and
presenting results from said programmatic actions upon a bedside graphical user interface.
The court explained this method as automating pen-and-paper methods — i.e., "do it on a computer."
This is a quintessential "do it on a computer" patent: it acknowledges that data from bedside machines was previously collected, analyzed, manipulated, and displayed manually, and it simply proposes doing so with a computer. We have held such claims are directed to abstract ideas. . . . That the automation can "result in life altering consequences," is laudable, but it does not render it any less abstract.
In examining the patent, the court was unable to identify any specific technological improvements but rather the particular key features of the system are defined in functional terms.  Thus, in addition to being directed to an abstract idea, the claims also fail Alice step two as merely reciting "well-understood, routine, conventional activit[ies]. . . . Here, the claims do no 'more than simply instruct the practitioner to implement the abstract idea . . . on a generic computer.' Quoting Alice.
Invalidity Affirmed.