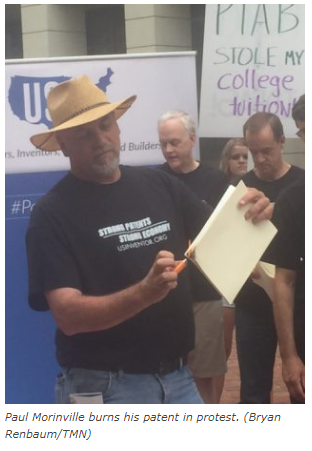 In re Paul Morinville (Fed. Cir. 2019)
Morinville is an independent inventor and inventor-advocate.  In the photo to the right, see Morinville burning one of his patent documents. He is also a regular contributor to Gene Quinn's IPWatchdog site.
In this case, Morinville is attempting to patent a method of reorganizing a business hierarchy into a more centralized functional hierarchy.  Example: Move from Fig. 1 to Fig. 2.
Operationally, the claims require association of "roles" with each position, including a "major function" and then identifying positions in the hierarchy that have functional commonality between the roles.  Those associations are then used to generate a new hierarchy. And, "each of the steps is automatically implemented in the computer."
The application was filed back in 2004.  In its first office action (2008), the examiner rejected the claims as directed to an abstract idea (applying a machine-or-transformation test) and also anticipated and obvious.  That rejection was followed by a second non-final rejection in 2009 and a final rejection in 2009.  During that time, Morinville added an "implement it on a computer" requirement, which satisfied the PTO on 101 grounds.  Morinville appealed the other rejections and filed his appeal brief in 2010.  Later that year, the examiner reopened prosecution with new obviousness rejections that were made final in 2011.  Morinville appealed again and won — with a 2012 PTAB decision finding the claims non-obvious (or at least that they have not been shown to be obvious).  However, rather than allowing the case, the examiner issued a new set of rejections on post-Alice eligibility as well as a new anticipation rejection. That rejection was then made final.  On appeal, the PTAB affirmed the examiner's eligibility rejection — finding that the claims were effectively directed to an unpatentable abstract idea.  The PTAB explained:
The subject matter of claim 1, as reasonably broadly construed, is drawn to a business administration concept for management of a business; that is, claim 1 is focused on a methodology of creating a functional organizational structure from a hierarchical operational structure and controlling access to business processes based on the created functional structure. . .

We find the concept of organizational structure, in which an organization can be structured in different ways, and managing access to  business processes based on an organizational structure, is a well-established business practice, and an idea with no particular concrete or tangible form. Furthermore, we find the "computer" of claim 1 is invoked merely as a tool and does not provide any specific improvement in computer capabilities.
Now on appeal, the Federal Circuit has affirmed.  Writing for the court, Judge Newman explained that organizing a hierarchy is "a building block, a basic conceptual framework for organizing information" and thus abstract.  The court also agreed with the PTO that Mr. Morinville's "computer" elements were claimed at such a "high level of generality" so as to have no grounding effect sufficient to transform the abstract idea into a patent eligible invention.