by Dennis Crouch
Swagway v Segway and ITC (Fed. Cir. 2019)
The case caption suggests the cause of action – trademark infringement.  Segway complained to the ITC, and the ITC agreed that Swagway's self-balancing hoverboard products infringe — although it found no infringement for Swagway's use of SwagTron.  On appeal, the Federal Circuit has affirmed.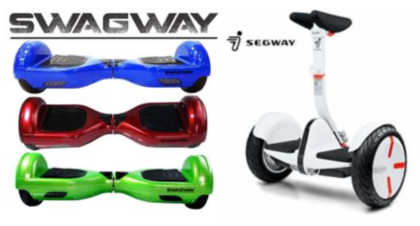 The fundamental question in trademark infringement cases is whether "consumers would likely confuse the alleged infringer's mark with the asserted mark."  Likelihood of confusion is typically proven based upon a set of factors known as the DuPont factors. In re E.I. DuPont DeNemours & Co., 476 F.2d 1357 (C.C.P.A. 1973).  Although the DuPont case focused on TM registration, courts are now applying the same factors in infringement cases.  See, In re Guild Mortg. Co., 912 F.3d 1376 (Fed. Cir. 2019).
Swagway argued on appeal that the most critical factor in this case should be whether anyone is actually confused.  The products have been sold concurrently for several years any "likely" confusion should be apparent in proof of actual confusion.  No substantial actual confusion was proven – and Swagway suggests that should end the conversation with a no-infringement verdict.
The problem for Swagway here is that the Federal Circuit has substantial precedent on lack of actual confusion during concurrent use — requiring that the accused infringer show "long-term, concurrent use in the same channels of trade."  And, Swagway did not provide evidence to meet that requirement.
As I was writing this post in a coffee shop, I asked one person whether she would be confused that Swagways were actually Segways — she told me "no." It turns out that Segway presented no survey evidence of likelihood of confusion.  No matter, Federal Circuit precedent holds that a lack of survey evidence does not lead to an inference that no confusion exists. "The Commission therefore did not err in according no weight to Segway's lack of survey evidence."
= = = =
In a separate part of the decision, the Federal Circuit also issued an interesting civil procedure squb:"[W]e hold that the Commission's trademark decisions, like its patent decisions, do not have preclusive effect."