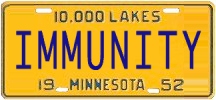 Regents of the University of Minnesota v. LSI Corporation (Supreme Court 2019) (petition stage)
Question presented in this new petition:
Whether the inter partes review proceedings brought by private respondents against the University of Minnesota in this case are barred by sovereign immunity.
UMN sued LSI and Ericsson for infringing several of its semiconductor related patents. U.S. Patents 5,859,601, 7,251,768, RE45,230, 8,588,317, 8,718,185, and 8,774,309. Those two companies then petitioned the USPTO for inter partes review (IPR) of the asserted claims.  The PTAB then dismissed the proceedings – holding that 11th Amendment sovereign immunity applied to IPR proceedings.  On appeal, however, the Federal Circuit reversed – holding that sovereign immunity does not protect state-owned patents from being cancelled by the PTAB.
A key Supreme Court precedent on-point is Fed. Mar. Comm'n v. S.C. State Ports Auth., 535 U.S. 743  (2002) (FMC) (presumptive state immunity even in administrative adjudications).  Here a major difference is that we have property-rights at stake that create special in rem jurisdiction potential and that UMN has already attacked the IPR petitioners by suing them for infringement, creating potential waiver.
This case is parallel to the Indian Tribe immunity case of Saint Regis Mohawk Tribe v. Mylan Pharmaceuticals Inc., 896 F.3d 1332 (Fed. Cir. 2018).  The Supreme Court denied certiorari in that case earlier this year.  A major difference here is that Indian Tribe immunity stems from common law and statutory law (and sometimes treaty) while State immunity is grounded in the U.S. Constitution.