Fieldturf Int'l., Inc. v. Triexe Mgmt. Grp., Inc. (N.D. Ill. 2004)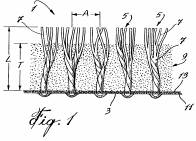 An interesting case is brewing in the Northern District of Illinois between Fieldturf International and Triexe Management Group (Sportexe) over synthetic turf technology. (e.g., U.S. Patent 6,338,885). Fieldturf alleges that Triexe infringed its patents, intentionally interfered with its prospective economic advantage and committed common law conversion by selling or offering to sell synthetic turf to the U Wisc, UC Berkeley, the Baltimore Ravens, and a fourth project in Ireland. Triexe has denied the material allegations and has asserted counterclaims.
Prior litigation between the parties has involved domain name disputes stemming from Triexe's registration of the domain name fieldturf.net. In his decision, the ICANN arbitrator found that Triexe's registration was confusing and done in bad faith. In addition, Fieldturf recently lost an appeal in another patent infringement case for lack of standing. (Stephen Nipper).