Monsanto Co. v. Homan McFarling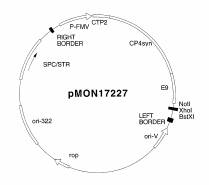 McFarling replanted some ROUNDUP READY(r) soybeans that he had saved from his prior year's crop in violation of the Technology Agreement that he signed as a condition of his purchase of the seeds from Monsanto. (U.S. Patents 5,633,435 and 5,352,605). On appeal from a summary judgment, McFarling argued that the Technology Agreement involved an unlawful misuse of Monsanto's patents by restricting use of "god-made" second-generation seeds. The Court disagreed. Because the first-generation seeds (sold by Monsanto) were nearly identical copies to the second-generation seeds, the court found that the patent scope includes both generations. Thus, the Court rejected McFarling's appeal and held that the Technology Agreement did not impermissibly extend Monsanto's rights.
The Court vacated and remanded the district court's damages award under Missouri law as an "unenforceable and invalid penalty clause."
Andrew Hagen provides some anti-GMO comments and links. Canola Farmers may also be violating Monsanto's patents. Here is an older article on the Roundup Ready soybean controversy, and here is another. Andrew Raff provides further commentary.
Update: Farmers in Argentina are allowed to cull seeds for replanting new crops. Apparently there is also a large black-market for GM seeds. (Thanks to Carol Nottenburg for the link).