Novartis Pharmaceuticals v. Eon Labs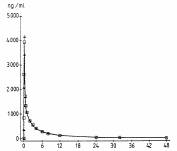 Novartis patented a cyclosporin hydrosol (aqueous solution) and sued Eon for infringement. (U.S. Patent 5,389,382) Eon's cyclosporin, however, is suspended in ethanol rather than water. The infringement argument was that a Eon's drug formed a hydrosol when ingested by a patient.
The court held that "hydrosol" as used in the patent is limited to an "aqueous medicinal preparations prepared outside the body," and thus, that Eon's formulation did not infrnge.
See Eon's press release.