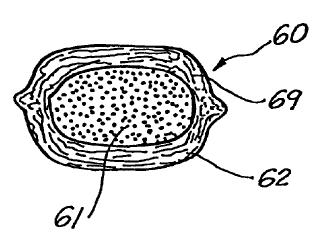 Mars v. Heinz & Del Monte (Fed. Cir. July 29, 2004).
Mars filed a patent infringement suit against Heinz, alleging infringement on its patented pet food. (U.S. Patent 6,312,746)(A dual texture animal food product with a soft inner component surrounded by a harder, more rigid shell). After a Markman hearing, the district court issued summary judgment of noninfringement to Heinze.
On appeal, the Federal Circuit breathed new life into Mars' claims by issuing a new construction of claim terms and remanding.
We conclude that: (1) "ingredients" as used in the phrase "a mixture of lipid and solid ingredients" refers to the components of the inner core at any time after they have been mixed together, and (2) the phrase "containing a mixture" is open-ended. Thus, the claim language, "containing a mixture of lipid and solid ingredients," does not exclude the presence of additional, unnamed ingredients in the inner core mixture that are neither lipids or solids. Since genuine issues remain as to infringement under this construction, we vacate the district court's grant of summary judgment of non-infringement and non-infringement under the doctrine of equivalents and remand for further consideration.
Vacated and Remanded