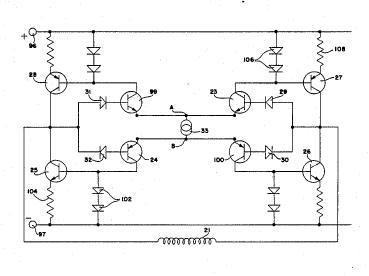 PELLEGRINI v. ANALOG DEVICES (Fed. Cir. July 8, 2004)
Plaintiff Pellegrini appealed to the Federal Circuit after the district court granted partial summary judgment in favor of Analog. In the patent infringement suit, Pellegrini alleged that Analog was infringing its patented brushless motor drive circuits. (U.S. Patent 4,651,069). Because of Analog's international manufacturing process, the case provided a novel question for the Federal Circuit.
This case presents the question whether components that are manufactured outside the United States and never physically shipped to or from the United States may nonetheless be "supplie[d] or cause[d] to be supplied in or from the United States" within the meaning of 35 U.S.C. § 271(f)(1) if those components are designed within the United States and the instructions for their manufacture and disposition are transmitted from within the United States. This is a matter of first impression for this court. According to § 271(f)(1),

Whoever without authority supplies or causes to be supplied in or from the United States all or a substantial portion of the components of a patented invention, where such components are uncombined in whole or in part, in such a manner as to actively induce the combination of such components outside the United States in a manner that would infringe the patent if such combination occurred within the United States shall be liable as an infringer.

35 U.S.C. § 271(f)(1) (2000). Section 271(f) was enacted in the wake of the United States Supreme Court's decision in Deepsouth Packing Co. v. Laitram Corp., 406 U.S. 518 (1972), in which the Court acknowledged that unauthorized manufacturers of patented products could avoid liability for infringement under the then-existing law by manufacturing the unassembled components of those products in the United States and then shipping them outside the United States for assembly. Congress enacted § 271(f) in order to close that loophole.
In its opinion, the appellate panel determined that Section 271 requires "physical supply of components, not simply to the supply of instructions or corporate oversight." Because the U.S. division of Analog only provided designs and corporate oversight, no infringing activity took place. Affirmed.