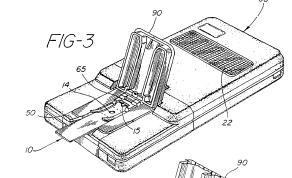 Home Diagnostics v. LifeScan (Fed. Cir. 2004) (03-1370).
After construing the claims in this patent infringement lawsuit, the Northern District of California Court held that Home Diagnostics' (HDI) blood glucose meters do not infringe LifeScan's patent on the use of reflectance to determine blood glucose concentration. (U.S. Patent No. 6,268,162).
On appeal, LifeScan argued that the lower court's claim construction should be overturned. Specifically, LifeScan argued that the district court overlooked "the accepted contextual meaning" of the method of stopping a measurement period and unduly limited terms to those disclosed in a preferred embodiment. HDI argued that any broader interpretation was disavowed by LifeScan when they disclosed only a single embodiment.
The Federal Circuit agreed with LifeScan, following their own precedent that disclosure of a single embodiment "does not mean that the patent clearly and unambiguously disavowed other embodiments."
Reversed-in-part, Vacated-in-part, and Remanded