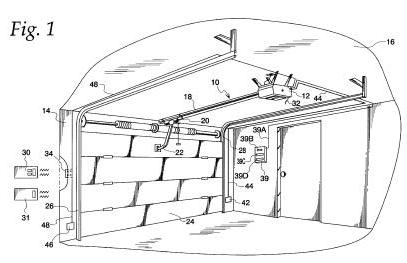 Chamberlain Group v. Skylink Technologies (Fed. Cir. 2004).
In a well reasoned opinion, the Federal Circuit (GAJARSA) affirmed a district court's dismissal of a suit arising under anti-trafficking provisions of the Digital Millennium Copyright Act (DMCA).
The DMCA does not create a new property right for copyright owners. Nor, for that matter, does it divest the public of the property rights that the Copyright Act has long granted to the public. The anticircumvention and anti-trafficking provisions of the DMCA create new grounds of liability. A copyright owner seeking to impose liability on an accused circumventor must demonstrate a reasonable relationship between the circumvention at issue and a use relating to a property right for which the Copyright Act permits the copyright owner to withhold authorization-as well as notice that authorization was withheld. A copyright owner seeking to impose liability on an accused trafficker must demonstrate that the trafficker's device enables either copyright infringement or a prohibited circumvention. Here, the District Court correctly ruled that Chamberlain pled no connection between unauthorized use of its copyrighted software and Skylink's accused transmitter. This connection is critical to sustaining a cause of action under the DMCA. We therefore affirm the District Court's summary judgment in favor of Skylink.
This case involved electronic garage door technology with a "rolling code" to encrypt signals transmitted signals. Skylink distributes a universal remote that can decode the encrypted rolling code. In an attempt to control the aftermarket in remote control units, Chamberlain sued.
The court's basic premise is that an element of a DMCA cause of action is an underlying copyright violation — without such a violation, there can be no remedy.
Updates: According to Ernest Miller, the court rescued the DMCA from "one of its most absurd aspects." He is still concerned, however, that the Act, even as narrowly interpreted, will continue "stifling creativity and innovation." More on the story from copyfight.