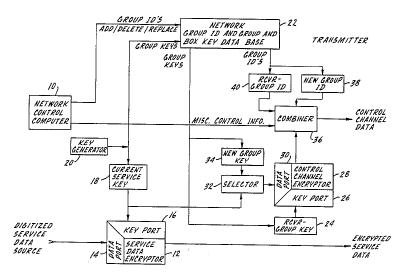 Irdeto Access v. Echostar (Fed. Cir. 2004).
Irdeto's patent is directed to a system for controlling the broadcast of digital information signals by using three types of complementary encryption and decryption keys — "service keys," "group keys," and "box keys." (U.S. Patent No. 4,531,020). Irdeto sued Echostar, arguing that Echostar's DISH Network infringed the patent. On summary judgment, the district court granted summary judgment to Echostar, finding that Echostar's product did not infringe. The Appeal revolved around the definition of the term "group."
Irdeto, in effect, argues is that even after telling the PTO and the public that given the absence of ordinary meaning in the art for the term "group," the specification sets forth the full intended scope of that term, a patentee can nonetheless later lay claim to a broader, general-usage dictionary meaning of "group" absent explicit narrowing statements in the specification. This cannot be. … [W]hile the specification does not contain any statements of explicit disavowal or words of manifest exclusion, it repeatedly, consistently, and exclusively uses "group" to denote fewer than all subscribers, manifesting the patentee's clear intent to so limit the term. The specification also contains no affirmative indication that group can consist of all subscribers within the system. A reasonable competitor reading the patent could only understand "group" to refer to a subset of all subscribers. The claims must be limited accordingly.
Summary Judgment of Noninfringement Affirmed.