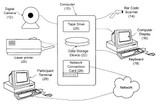 eBay v. MercExchange (on petition for certiorari).
EBay's petition for a writ of certiorari had gained further support from a group of patent law professors led by Mark Lemley of Stanford.
In eBay v. MercExchange, the Court of Appeals for the Federal Circuit held that, absent exceptional circumstances, a district court should issue a permanent injunction after finding that a patent is not invalid and infringement.
The amicus brief, signed on behalf of thirty-five of the top patent law professors in the country, argues that the injunction decisions should conform to the traditional principles of of equity and should be reasonable. These principles of equity are grounded in four equitable factors:
(i) whether the plaintiff would face irreparable injury if the injunction did not issue;
(ii) whether the plaintiff has an adequate remedy at law;
(iii) whether granting the injunction is in the public interest; and
(iv) whether the balance of hardships tips in the plaintiff's favor.
The professors readily admit that "injunctive relief is the appropriate remedy in ordinary patent cases." However, they that the threat of injunctions without considering the equities may lead irreparable harm to the defendant
[A]n absolute entitlement to injunctive relief can and does permit unscrupulous patent owners to "hold up" defendants by threatening to enjoin products that are predominantly noninfringing and in which the defendant has already made significant irreversible investments. . . .

A microprocessor may include 5,000 different inventions, some made by the manufacturer and some licensed from outside.

If a microprocessor maker unknowingly infringes a patent on one of those inventions, the patent owner can threaten to stop the sale of the entire microprocessor until the defendant can retool its entire plant to avoid infringement. Small wonder, then, that patentees regularly settle with companies in the information technology industries for far more money than their inventions are actually worth.
Although not explicitly included in the brief, Professor Lichtman's consideration of "Irreparable Benefits" might also be an important factor for consideration.
Links: