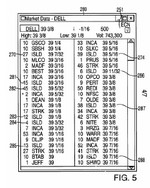 Lava Trading v. Sonic Trading Management (Fed. Cir. 2006, 05–1177)
The majority overturned a lower court claim construction, but Judge Mayer dissented:
The decision today is yet another example of the unfortunate consequences of Markman v. Westview Instruments, Inc., 52 F.3d 967 (Fed. Cir. 1995) (en banc), Cybor Corp. v. FAS Techs., Inc., 138 F.3d 1448 (Fed. Cir. 1998) (en banc), and Phillips v. AWH Corp., 415 F.3d 1303 (Fed. Cir. 2005) (en banc), which cemented this court's jurisprudence with respect to claim construction as being purely a matter of law subject to de novo review. Because claim construction is treated as a matter of law chimerically devoid of underlying factual determinations, there are no "facts" on the record to prevent parties from presenting claim construction one way in the trial court and in an entirely different way in this court. By not dismissing this case, we issue a decision based on an undeveloped record. We set ourselves up to have to decide claim construction again later, which could well differ from the ruling today. Furthermore, allowance of an appeal of the trial court's perfunctory, offhand ruling from the bench, for all intents and purposes allows an interlocutory appeal of claim construction, which portends chaos in process.