In 2001, the PTO began publishing patent applications that had been filed eighteen months prior. Prior to that change, essentially all U.S. applications had been kept secret throughout prosecution.
Under the new rule an application will publish after eighteen months unless the applicant explicitly requests nonpublication and promises that it does not intend to file any corresponding foreign applications.
To take a look at how applicants are responding to to the change, I pulled up a random sample* of 1% of all published applications (12,000+ sample size) then created a histograph based on serial number. The graph below shows the results.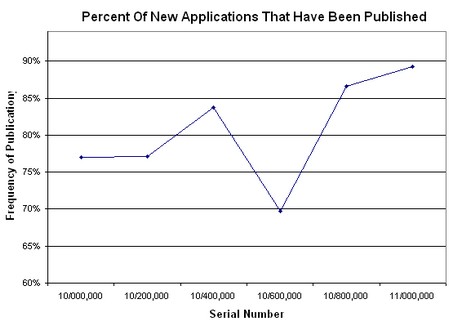 The applications around the beginning of Series 10 (10/000,000) were filed around the end of 2001 while those at the end of Series 10 were filed in the later half of 2004. It appears that the major dip at 10/600,000 is a data anomaly, although I have not yet figured out why it is there. This graph cannot be seen as a real timeline because some serial number blocks are reserved for certain application types.
There are several reasons for publishing your application:
Law: If you plan to file file a foreign application (or already have filed) then you must allow the application to publish.
Transaction Costs: Publication avoids the problem of later having to think about whether you are going to file foreign.
Signaling: Publication can provide some signaling — i.e., to let everyone know how strong your technology is so that they don't step on your toes. This is also a credible showing to investors.
Rights: Publication can provide provisional rights if the claims that issue are "substantially identical" to those that are published and if actual notice is given to the infringer.
Blocking: Publication creates world-wide prior art.
Notes
*The data was actually collected in six random samples — Applications published in 2001, 2002, . . . , 2006.