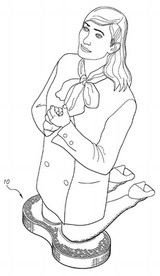 Bender v. Dudas (Fed. Cir. 2007)
Although this case is extreme, it should also server as a warning to any patent practitioner who regularly represents 'unsophisticated clients' — You will be held to a higher ethical standard. The opinion also creates a trap for flat-fee prosecution — because, according to the CAFC, the flat rate provides an incentive to shirk responsibilities.
Here, Bender, a patent attorney, worked with an invention promotion company (AIC) to prosecute over 1000 design patent applications. The applicants were never asked whether they intended to file design or utility patent applications and were not provided with information weighing the two options.
The PTO found that Bender had violated several rules of ethics and expelled him from practice. The district court (DC) affirmed. Bender then appealed to the CAFC, which also affirmed on all issues.
Standard of Review: Under the APA, a PTO sanction will be upheld unless "arbitrary, capricious, an abuse of discretion, or otherwise not in accordance with the law." The underlying factual conclusions are reviewed for substantial evidence.
Neglecting an Entrusted Legal Matter: The PTO argued that Bender had neglected to ensure that his clients were aware of the differences between design and utility patents and that they intended to file design patent applications. Bender did provide a description of the differences in a letter to clients, but the CAFC found that "an entirely hollow and formalistic gesture" because it did not provide particularized advice.
Bender's engagement letter was an entirely hollow and formalistic gesture because it did not provide any of the Gilden applicants with advice that directly related to the particular inventions at issue, the type of patent best suited to protect these particular inventions and the inventor's interests therein, or the consequences of pursuing a design patent instead of a utility patent.
Bender should have discussed the particulars of each case with the inventors to determine the proper type of application that should be filed. CAFC found evidence of motive in the billing arrangement: Bender was paid a flat rate by the invention promotion company who had a money-back guarantee if no patent issued. And, design patents are cheaper to file and much easier to obtain.
Any reputable attorney would have appreciated that the wholesale filing of design applications under such circumstances and the unauthorized addition of design embellishments were driven in large measure if not entirely by AIC's money-back guarantee.
Bender also failed to advise clients regarding final rejections as should always be done (regardless of who foots the bill.
Conflict of Interest: Bender should have explicitly discussed his fee arrangement with each client — as must always be done if someone else is footing the bill. Generally this type of arrangement can only proceed with clients permission after a full disclosure. (including the amount that Bender received from the invention promotion company).
Lying to the Feds: The CAFC also a affirmed on a charge akin to obstruction of [administrative] justice. Bender failed to give full and complete answers to the PTO's requests for information. Although Bender had objected to the questions as argumentative and based on false premises, the CAFC agreed with the PTO — that his responses hindered the investigation.
Exclusion from practice affirmed.
Notes:
[UPDATE] Leon Gilden is the patent attorney who was initially part of the AIC scheme. Gilden skipped town and is now a fugitive at large. [Wanted Poster of Leon Gilden]
The violations included (1) neglecting an entrusted legal matter; accepting employment where professional judgment may be affected; accepting compensation from a non-client without full disclosure to the actual client; and engaging in conduct that was prejudicial to the administration of justice.
Individual inventors who are not yet versed in the rules of patent law create problems for patent prosecutors. The work generally takes more time and effort, the malpractice risk is often greater, and the ability to pay is usually less. A number of law firms now have policies against representing individuals (except for the very wealthy).
Justifying the lack of procedural safeguards on the PTO's requests for information, the CAFC explained that the lack of safeguards actually "protects practitioners by providing them with an opportunity to explain any questionable conduct and present reasons why disciplinary proceedings are not warranted."