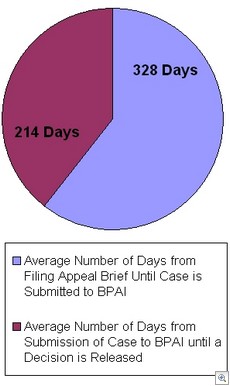 In the first two weeks of September 2007, the Board of Patent Appeals and Interferences released over one hundred opinions. I looked at the file wrapper histories of thirty of these recent BPAI decisions to get some picture of the timing of BPAI appeals.
On average it took just under 18 months (542 days) from the filing of the appeal brief until a decision was reached by the BPAI. The mean hides a wide range of delay: From a minimum of 9 1/2 months to a maximum of 44 months. (Standard Deviation 255).
Most of the time delay is not attributable directly to the BPAI. Rather, most of the delay occurs between the date that the appeal is filed and the date that the case is submitted to the BPAI. On average, it took about 11 months (328 days) to 'complete briefing.' Typically, that time period involves the applicant's brief; followed by an examiner's answer; and finally a reply brief. Once the case is submitted to the BPAI, the average decision time was seven months (214 days).
If you win an appeal, the Examiner may reopen prosecution with an additional rejection, although the more common approach is to issue a notice of allowance.
Based on this information, you can advise clients that an appeal – pushed through to the end – takes an average of 18 months, but that there is a wide variance. As I noted earlier in 2007, only fewer than of appeals are pushed-through to the end. [Link]. In many cases, Examiners withdraw rejections or applicants file RCE's with new claims. These calculations also do not include time delays associated with BPAI rejections for improper appeal brief form. Instead, I only began counting once a 'proper' brief was filed. In an earlier study, I showed that approximately 25% of appeal briefs are rejected on procedural grounds as either defective or incomplete. [Link].
The prosecution history of a patent application typically includes at least two substantive rejections prior to the appeal brief. In this sample, the average application had been in process for over three years (39 months) before the appeal brief was filed.
As with essentially every other area of patent law, we can expect that BPAI timing and results will vary by technology area.
Notes: