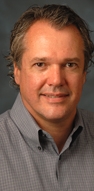 In re Ferguson (Fed. Cir. 2007) (on appeal)
Scott Harris is one of the named inventors on U.S. Patent Application No. 09/387,823. He is also representing his fellow inventors in their Federal Circuit appeal — asking the court to explicitly define patentable subject matter to include business methods.** Ferguson's claimed invention focuses on the "concept of a marketing company devoted to selling/marketing products produced by other companies in return for a share of their profits." Claim 24 is representative:
24. A paradigm for marketing software, comprising: a marketing company that markets software from a plurality of different independent and autonomous software companies, and carries out and pays for operations associated with marketing of software for all of said different independent and autonomous software companies, in return for a contingent share of a total income stream from marketing of the software from all of said software companies, while allowing all of said software companies to retain their autonomy.
The application also includes method claims of using the paradigm.
The BPAI (Board) found that the claims satisfied the requirements of 35 USC 102, 103, and 112, but that they were not patentable subject matter under 35 USC 101.
§101. Whoever invents or discovers any new and useful process, machine, manufacture, or composition of matter … may obtain a patent therefor, subject to the conditions and requirements of this title.
Although difficult to find within the text of the statute, the Board found that Section 101 requires that a claim either have a "useful, concrete, and tangible result" or "transform" something into a new physical state. Because Ferguson's claims don't fit either of these categories, the Board held that the claims were abstract and thus unpatentable. In its decision, the Board followed the rules set forth in the PTO's Interim Guidelines on Subject Matter Eligibility.
Ferguson's appeal is a head-on challenge to the PTO's guidelines — arguing that the limited tests proposed by the PTO were never intended by courts to be 'exclusive test' and that his claims are, in fact, patentable subject matter.
Oral arguments are set for December 5th, and a decision likely in February or March of 2008. That decision may finally provide a clear analysis regarding the patentability of business methods.
Notes:
** People Magazine Byline

: If you remember, Scott Harris is a former major partner at Fish & Richardson. He left the patent litigation giant after some of Fish's larger clients (Google) complained about being sued for infringement of patents invented (but no longer owned) by Harris. Fish has been sued by owners of a Harris patent (and now Harris himself). Their allegations against the firm include tortious interference, defamation, and the wrongful witholding of wages. Interestingly, Jenner & Block is representing another non-practicing patent plaintiff, PA Advisors, who is suing Fish clients (Google). . . [

PTT

] [

Patently-O

][

Harris Counterclaims

]. Interestingly,

Tom Woolston

(owner of

MercExchange

) was also a Fish & Richardson patent attorney and prosecuted his patents while at that firm.

John Phillips

, managing partner of Fish & Richardson's San Diego office is a co-owner of that company.

Bilski

: Bilski also involves business method patenst and was argued on October 1, 2007. In the audio, Judge Moore takes seriously the seemingly novel concept that Design Patents must also fit within the the 101 guidelines.

LINK

: At his excellent blog, Peter Zura uncovers three recent BPAI decisions that limit the patentability of software.