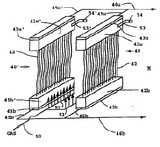 Zenon Environmental v. United States Filter (Fed. Cir. 2007)
At a bench trial, Zenon's microfiltration patents were found not invalid but also not infringed. Both parties appealed, but the CAFC only needed to decide half the case — After deciding that Zenon's asserted patent was anticipated one of Zenon's prior patent, the issue of infringement became moot.
The particular issue on appeal was whether Zenon's asserted patent (the '319 patent) properly claimed priority to an earlier Zenon patent (the '373 patent).
Chain of Reference: The '319 patent claims to be a continuation of No. 6,294,039, which is a divisional of No. 6,042,677, which is a divisional of No. 5,910,250, which is a CIP of No. 5,783,083, which is a CIP of the '373 patent.
The claims in the asserted patent were disclosed in the original filing — the dispute arose because an intervening patent included only a reduced disclosure.
"In order to gain the benefit of the filing date of an earlier application under 35 U.S.C. § 120, each application in the chain leading back to the earlier application must comply with the written description requirement of 35 U.S.C. § 112." Lockwood v. Am. Airlines, 107 F.3d 1565 (Fed. Cir. 1997).
Of course, the written description requirement can be satisfied by incorporating information by reference. That incorporation must, however, be explicit. In one of the intervening patents, Zenon did include a reference to the '373 patent. However, the CAFC found that reference fell short because it did not explicitly state that it was incorporating the earlier patent by reference. (The reference was stated as follows: "details relating to … a most preferred skein are found in the parent U.S. Pat. No. 5,639,373.").
Without the incorporation by reference of the proper written description, the asserted patent cannot claim priority to the filing date of the earlier patent. And, that lack of continuity of disclosure means that the early patent now serves as § 102 prior art.
Because it is undisputed that the '373 patent discloses each and every limitation of the claims of the '319 patent, and the '373 patent was filed more than one year prior to the filing of the '319 patent, we thus conclude that the '319 patent is anticipated by the '373 patent and hence invalid.3
In dissent, Judge Newman found it silly that the grandparent application would invalidate the grandchild. In addition to being silly, Newman argued that 35 U.S.C. § 120 requires that the later filing is "entitled to the benefit of the [earlier] filing date" so long as the family relationship is properly disclosed.