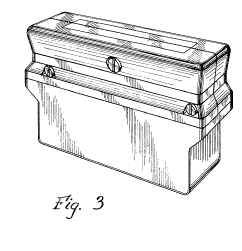 In TrafFix Devices v. Mktg. Displays, the Supreme Court held that the existence of an expired utility patent covering a particular product design provides strong evidence that the design is "functional."* Consequently, a party would be had-pressed to claim non-functional trade dress protection for the previously patented design. In Keystone Mfg. v. Jaccard Corp., the W.D.N.Y. federal court explored how trade dress protection is impacted by an expired design patent.
Expired Design Patent: Jaccard's hand held meat tenderizer is covered by its U.S. Design Patent No. D 276,685. The design patent expired in 1998 – seemingly leaving an open avenue for direct copycat competition. As part of a larger lawsuit, however, Jaccard asserted trade dress rights over its product.
Functionality: Jaccard argues that design patents should be treated as the mirror image of utility patents in a functionality analysis: If a utility patent creates strong proof of functionality, a design patent should provide presumptive evidence of non-functionality.
The district court rejected the suggestion that the design patent creates a presumption of non-functionality. Instead, the court held that the design patent simply serves as another piece of evidence to be used by the jury in determining non-functionality. This conclusion comports with McCarthy on Trademarks:
"A design patent, rather than detracting from a claim of non-functional trade dress or trademark, may support such a claim . . . [W]hile a design patent is some evidence of non-functionality, alone it is not sufficient without other evidence."
Curiously absent from this decision is any analysis of the populist notion that expiration of a patent transfers to the public a right to copy and use the patented elements.
* Although there are various definitions of functionality, in trade dress law the term generally refers to whether the element is essential for the product's use or affects the cost/quality of the product. Only non-functional designs are protectable as trade dress.
Keystone Mfg. v. Jaccard Corp., 2007 U.S. Dist. LEXIS 13094 (W.D.N.Y. Feb 26, 2007).
There are several cases in conflict with Keystone Mfg on this point. Fuji Kogyo Co., Ltd. v. Pac. Bay Int'l, Inc., 461 F.3d 675 (6th Cir. 2006) (noting that a design patent serves as presumptive evidence of non-functionality).