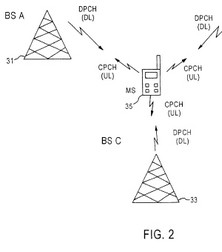 Golden Bridge Tech. v. Nokia and Lucent Tech. (Fed. Cir. 2008)
Golden Bridge's patent covers a CDMA mobile communication scheme that gradually ramps-up the communication power signal in order to avoid interference with other mobile phones. On summary Judgment, the E.D.Texas court held that Golden Bridge's patent CDMA mobile communication scheme asserted claims were anticipated by the prior art.
Anticipation is a question of fact normally decided by a jury. However, it may be amenable to summary judgment "if the record reveals no genuine dispute of material fact."
Waiver of Novelty Argument: On appeal, Golden Bridge argued that the prior art does not disclose a claimed synchronization element. That factual contention, however, was only first presented on appeal. Finding that Golden Bridge had ample opportunity to raise the contention at the district court level, the CAFC found that any appeal on the synchronization issue had been waived.
"There is no reason why Golden Bridge could not have raised the issue of whether the synchronization limitation was disclosed in the Häkkinen [prior art] reference during the summary judgment proceedings either before the magistrate judge or before the district court judge. . . Golden Bridge cannot simply choose to make its arguments in iterative fashion, raising a new one on appeal after losing on its other at the district court. This is an appellate court and as such we abide by the general rule that new arguments will not be decided in the first instance on appeal.
New Counsel: Golden Bridge argued that it should be given another opportunity to raise the issue because it had hired new counsel on appeal. The appellate panel quickly rejected that argument — holding that "[n]ew appellate counsel does not present an exceptional case or circumstance in which our declining review will result in injustice. To hold otherwise would open the door to every litigant who is unsuccessful at the district court to simply hire new counsel and then argue he should get to raise new issues on appeal."
Not Fact Finders: Although not directed at any particular colleagues, Judge Moore's opinion here strongly re-states the the limited role of the Federal Circuit as an appellate panel: "Appellate courts review district court judgments; we do not find facts. Middleton v. Dep't of Def., 185 F.3d 1374, 1383 (Fed. Cir. 1999) ('[A]s an appellate court, we may not find facts . . . .')."
Notes:
Based on a request by Nokia, the patent is concurrently under reexamination at the USPTO.