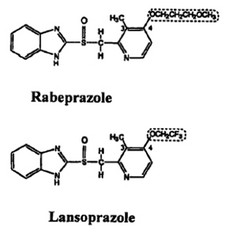 EISAI v. DR. REDDY'S LABORATORY and TEVA PHARMACEUTICALS (Fed. Cir. 2008)
Eisai's blockbuster ulcer drug AcipHex boasts over $1 billion in annual worldwide sales. The company holds a patent covering the active ingredient – rabeprazole – and its salts. Dr. Reddy's and Teva each filed ANDAs and Eisai filed suit to block generic entry.
Eisai won a summary judgment decision that the patent is infringed and enforceable. The appeal focuses on obviousness and inequitable conduct.
Obviousness of Chemical Compounds: Structural similarity is the touchstone of the obviousness inquiry for patents claiming a novel chemical compound. A looming question for pharmaceutical companies, however, is how the Supreme Court's decision in KSR v. Teleflex will impact chemical patents.
In KSR, the Supreme Court eased a defendant's pathway for invalidating a patent as obviousness. KSR's focus, however was on inventions created by combining known elements. Here, the individual components of Eisai's claimed compound were all known. However, the Eisai decision cabins-in KSR's importance by showing that the assumptions found in KSR often do not apply to chemical compound cases.
"The Supreme Court's analysis in KSR thus relies on several assumptions about the prior art landscape. First, KSR assumes a starting reference point or points in the art, prior to the time of invention, from which a skilled artisan might identify a problem and pursue potential solutions. Second, KSR presupposes that the record up to the time of invention would give some reasons, available within the knowledge of one of skill in the art, to make particular modifications to achieve the claimed compound. Third, the Supreme Court's analysis in KSR presumes that the record before the time of invention would supply some reasons for narrowing the prior art universe to a "finite number of identified, predictable solutions." In Ortho-McNeil Pharmaceutical, Inc. v. Mylan Laboratories, Inc., 520 F.3d 1358, 1364 (Fed. Cir. 2008), this court further explained that this "easily traversed, small and finite number of alternatives . . . might support an inference of obviousness." To the extent an art is unpredictable, as the chemical arts often are, KSR's focus on these "identified, predictable solutions" may present a difficult hurdle because potential solutions are less likely to be genuinely predictable."
Thus, in chemical compound cases, "a prima facie case for obviousness for a chemical compound still, in general, begins with the reasoned identification of a [prior art] lead compound." Obviousness can then based on structural similarity along with some "motivation that would have led one of ordinary skill in the art to select and then modify a known compound (i.e. a lead compound) in a particular way to achieve the claimed compound." Although the motivation to modify the prior art can come from many different fields, some motivation is needed. In chemical cases, this motivation may be proved by showing a 'sufficiently close relationship' between the prior art and claimed compound that would 'create an expectation . . . that the new compound will have similar properties to the old.' (internal quotation marks removed). In other words, an obvious substitution would be 'predictable.'
In this case, the lead compound – Lansoprazole – is quite similar to the claimed compound Rabeprazole. The difference is only found in a trifluroethoxy substituent at the 4–position (see figure) versus a methoxypropoxy substituent. Although structurally similar, the CAFC could not find any motivation to substitute the active groups. In particular, the court noted that it would not make sense to drop trifluroethoxy from the prior art — since it is that substituent that activated Lansoprazole.
"The record, however, shows no discernible reason for a skilled artisan to begin with lansoprazole only to drop the very feature, the fluorinated substituent, that gave this advantageous property."
Nonobviousness affirmed.
A High Bar for Inequitable Conduct: As usual, Judge Rader took a hard stance against inequitable conduct. He writes:
"Inequitable conduct in prosecuting a patent application before the United States Patent & Trademark Office may take the form of an affirmative misrepresentation of material fact, a failure to disclose material information, or the submission of false material information, but in every case this false or misleading material communication or failure to communicate must be coupled with an intent to deceive. Innogenetics, N.V. v. Abbott Labs., 512 F.3d 1363, 1378 (Fed. Cir. 2008). Materiality, defined as "what a reasonable examiner would have considered important in deciding whether to allow a patent application," and intent are both questions of fact, and require proof by clear and convincing evidence. Id. To satisfy the "intent" prong for unenforceability, "the involved conduct, viewed in light of all the evidence, including evidence indicative of good faith, must indicate sufficient culpability to require a finding of intent to deceive." Kingsdown Med. Consultants, Ltd. v. Hollister Inc., 863 F.2d 867, 876 (Fed. Cir. 1988) (en banc) (citing Norton v. Curtiss, 433 F.2d 779 (CCPA 1970)). Gross negligence is not sufficient. Id. This is a high bar."
This opinion along with Judge Rader's recent dissent in the Aventis case may show a growing split within the court on the issue of inequitable conduct.
Notes:
I updated this report to add a squishy word: "often." The modified sentence now reads: "However, the Eisai decision cabins-in KSR's importance by showing that the assumptions found in KSR often do not apply to chemical compound cases."