I have compiled some data on the timing of initial non-final office action and the ensuing response for 400,000+ patents with patent numbers ranging from 5,800,000 – 7,100,000.  The graphs below show that office action responses are strongly deadline driven. About 60% of responses are filed by the initial three month deadline. However, 2/3 of those early responses are filed within only a couple days of the three month deadline. Similar "rushes" are seen to meet the four, five, and finally the six month date.

PTO Fees are the explanation for the deadline push. Missing the initial three month deadline requires payment of a  $120 fee – not a steep fine – but something that some clients are now refusing to pay. Subsequent monthly surcharges rise more dramatically: first $460 then $1050.  For clients on more of a fixed prosecution budget, attorneys would rather money go toward their fees rather than to the PTO.  Of course, the six month date has the significant legal ramification of abandonment.
The  immediacy of the deadlines hides an important fact in today's prosecution: Each day of by the practitioner results in one less day that the patent is in force.  The fact that very few responses come quickly (apart from the deadline) indicates a latent demand for delayed prosecution — It seems that most clients do not care whether the patent issues now or six-months from now. Why not eliminate these deadlines or push them back considerably? Applicants with important or easily patentable inventions would continue to respond quickly.  Those who could care less or who need time to build a patenability case could wait. 
Now, there are several reasons to strive for compact prosecution timing. Perhaps most importantly is the notion that both the applicant and examiner will work better and more efficiently if they have seen the case recently.  The tradeoff, however, is that applications sit much longer awaiting initial consideration.
A note about the data below: Responses that appear below to be just after a three, four, five, or six month deadline are typically 'on time.' My measurement is from the date the OA is entered in PAIR to the date the response is entered in PAIR (not the mailing dates). This typically adds an extra week or so.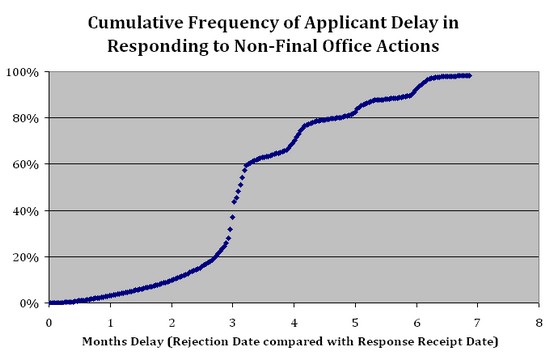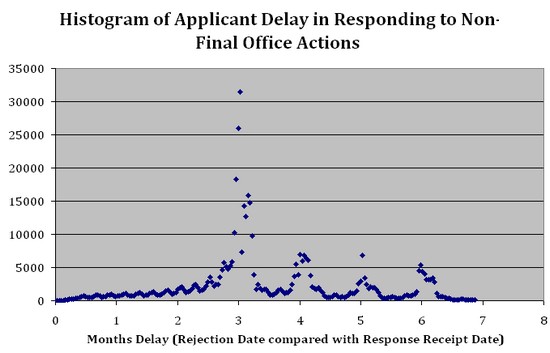 Notes:
Jeff Steck, a patent attorney at MBHB LLP, examined the small 'ripple' in the histogram and explains that it can be explained by the fact that (most) OA's are sent out on weekdays and responses are received on weekdays. This 'weekend effect' causes the ripple overlay. My original postulation that the ripple is caused by the PTO's bi-weekly counts is not sufficient since the ripple clearly has a one-week wavelength.