Earlier this week, the USPTO issued a design patent to Google that covers the "ornamental design for a graphical user interface [GUI] … as shown and described." Pat. No. D. 599,372. Design patent coverage is essentially defined by the images include in the issued patent. Here, the image looks roughly the same as the company's ubiquitous Google.com homepage. (See image below.)
To be clear, many patent professionals would argue that it is misleading to ever simply call this "a patent." Rather, it is a design patent. Design patents have limited scope in that they only cover ornamental designs rather than technological advances. The USPTO has been granting design patent protection for screen shots and icons for many years. However, to my (limited) knowledge, none of those design patents have ever been enforced in court. As with most design patents, it appears that during prosecution, the PTO never issued a substantive rejection based on novelty or obviousness. [UPDATE – I updated this paragraph based on messages from two of the leading design patent experts Saidman and Carani who rightly indicated that in the past several years, few design patents have been found invalid]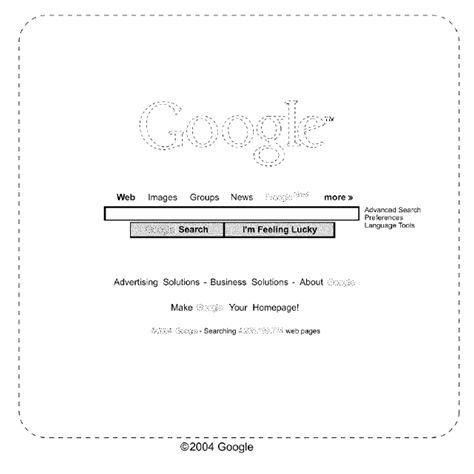 Dashed or "ghost" lines in the drawing indicate features that are not claimed. Thus, patent would be infringed by someone using an identical layout even if they replaced the "Google" mark with their own mark. You can note at the bottom that the design patent drawing is marked with a circle-c ©. That indicates that Google is also claiming copyright protection for this layout. In addition, in the design patent, Google indicates that it is also claiming trademark protection for portions of the layout and – perhaps – for the layout as a whole.
Although there is some conflict in the precedent, modern courts have generally allowed companies to overlap design patent, copyright, and trademark protection in the same way that a prosecutor may charge someone with multiple crimes that all stem from the same bad act. This only becomes a problem when applicants also attempt to include utility patent protection in the mix. The problem arises because inventions protected by utility patents are required to be "functional" while design patent, copyright, and trademark laws only protect "non-functional" elements. [The non-functionality doctrine varies considerably between the regimes.]
I like to think of the three regimes (design patent, copyright, and trademark) as essentially creating different rules of evidence to prove the same thing. All of the regimes have some sort of distinctiveness doctrine. For design patents, the design must be a novel and nonobvious advance; for trademark, the mark must help distinguish goods or services in the minds of consumers; for copyright, the work must be original. Likewise the elements of infringement are similar, but different enough to provide added value to someone concerned with protecting an underlying valuable asset.
Allowing overlapping protection has problems. Most notably, the 'piling on' effect may make it too expensive to challenge Google's rights even if their claim to rights appears overreaching. In the criminal justice system, this has the same effect of pushing folks to plea bargain.
Google operates in part on its reliance on the fair use doctrines of copyright and trademark laws and has been a strong advocate of open access of copyrighted works (think Google books and Google's indexing) and limited trademark rights (so that others can bid for Google ads on a competitors trade name). By relying on design patents, Google positions itself in a way that it can protect its rights based on patent doctrines while still arguing for weaker rights in those other areas.
Design patents remain in force for 14-years from the date of issue. Thus, Google's design patent is set to expire on Sept 1, 2023.
I have taken a screen shot of the Google.com website from Sept 3, 2009. It pretty clearly would not infringe because of the differences between layout in the patent and the layout on the site.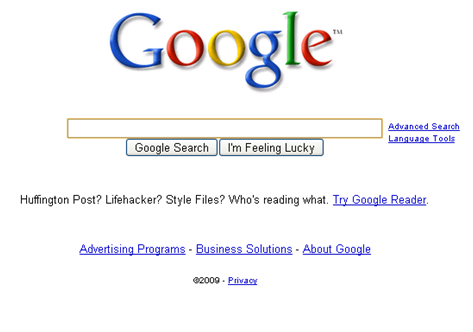 Notes:
Read the computer programmer response on Slashdot.
File Attachment: patd599372.pdf (72 KB). Also, see Google's patent on Google Patents.
It is pretty amazing that the patent lists ten inventors for that simple thing. Did each of those individuals contribute inventive material?
Inequitable Conduct?: According to the face of the patent, Google did not submit any prior art. The examiner found 13 largely irrelevant pieces of prior art. Google should have at least submitted a copy of its home-page from 1 year before its March 2004 application date. The screen-shot below is the Google page from one-year before its patent priority date. (via Internet Archive). The Screen Shot serves as 102(b) prior art and also serves as a non-infringing alternative for competitors.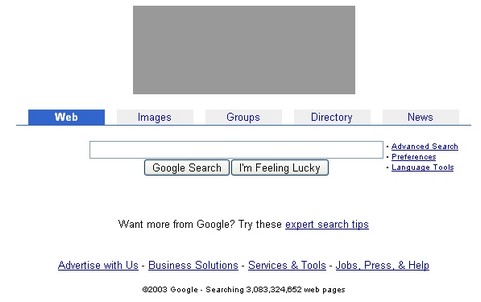 Gawker's ValleyWag has more background in a post titled "Google Patents World's Simplest Home Page."
Continuations: This patent is part of a family of at least seven design patents. Six of them are still pending, but one issued as a patent in 2006 (D533,561) covering the layout of search results. The recently issued '372 patent was filed in 2006, but claims priority to the 2004 filing date of the '561 patent.