Most utility patent applications are rejected at least once on either anticipation or obviousness.  Design patents are different.
As part of a larger project, I combed through 1049 file histories of design patents that issued in the past 12 months. Of those, 5 were rejected on novelty grounds and 8 on obviousness. This leads to a prior-art-based rejection rate of 1.2% (95% CI range of 0.7% – 2.1%).  The vast majority of the patents (81.6%) were never rejected during prosecution.  The most common rejections are under 35 USC 112 paragraphs 1 and 2.  Typically both paragraphs are asserted simultaneously.
According to the most recent USPTO annual report, design patents had an allowance rate of about 90% during the period FY2005–FY2009 as measured by the percentage of disposals that were allowances.  About half of design patents issued in 2009 were pending for less than one year.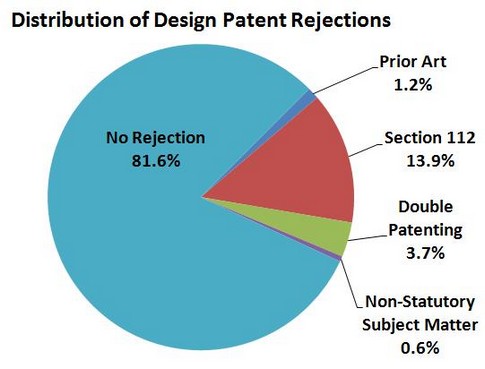 These numbers suggest that the US design patent system is operating as a registration system rather than as one based on a true examination.  Along this vein, it is typically easier and cheaper to prosecute a design patent to issuance than to register a product design as trade dress.  To be clear, I support the idea of a design patent registration system. More on that in another post.