Over the past decade, the Federal Circuit has released thousands of patent case opinions.  For today's study, I focused on patent opinions released since January 1, 2000. And, I limited my search only to those opinions with Westlaw Headnotes. Westlaw consistently provides Headnotes for published CAFC decisions and for a small number of unpublished opinions that Westlaw deems important. For each opinion, I looked to see whether a dissent was filed and, if so, who filed the dissent.  I also excluded en banc opinions from this particular study and instead focused on three-member panels.
Of the approximately 2000 panel decisions in my sample, 13.5% included a dissent.
For those who follow Federal Circuit decisionmaking, it will not be surprising that Judge Newman filed the most dissenting opinions. Of the 471 decisions in my sample associated with Judge Newman, she dissented in roughly 17%. What may be surprising is that Chief Judge Rader has been the least likely dissenter of the appellate judges.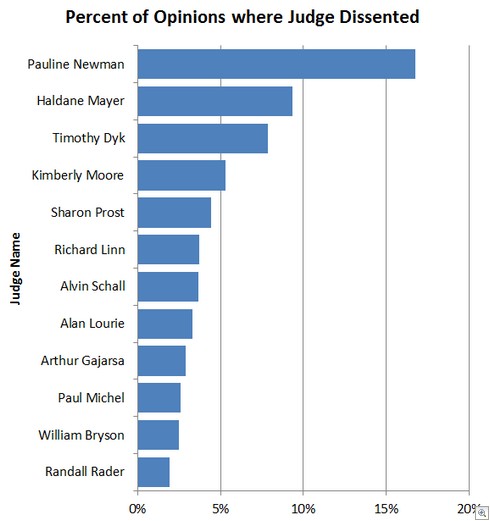 As the charts below suggest, Chief Judge Rader's low dissent count does not mean he builds unanimous coalitions. Rather, it appears that Chief Judge Rader is skilled at building majority coalitions. The first chart below shows the percent of panel opinions associated with a particular judge where a dissent was filed.  The final chart just considers opinions with a dissent and reports the percent of those opinions where a particular judge is in the majority.  As the final chart shows, in cases with a split decision, Judge Newman is rarely in the majority while Judge Rader is almost always in the majority.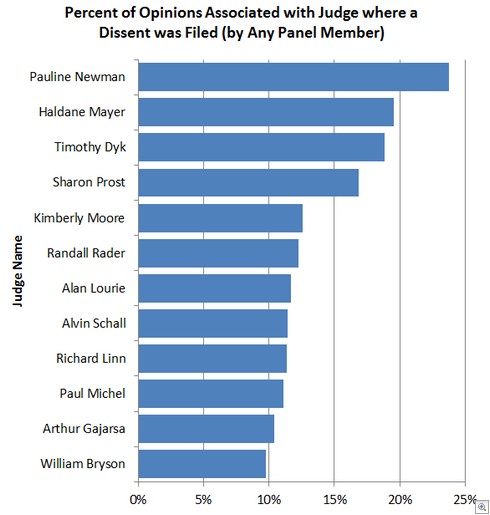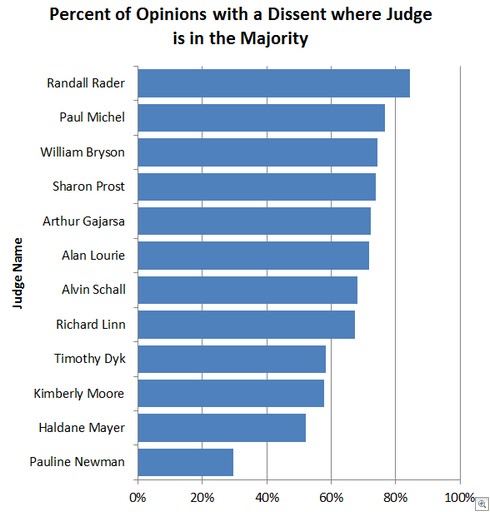 In the social dynamic of panel opinions, there are particular structures that tend to lead to dissent.  In Chief Judge Rader's case, more than 85% of his dissents were filed when at least one of Judges Lourie, Prost, or Bryson was on the three-member panel.
Using a slightly different dataset, Professor Cotropia (Richmond) found that the Federal Circuit is more likely to dissent than are other circuits — especially in patent cases. Christopher A. Cotropia, "Determining Uniformity Within the Federal Circuit By Measuring Dissent and En Banc Review," 43 LOY. L.A. L. REV. 801, 811 (2010).  Cotropia suggests that "A likely explanation [for the high level of dissent] is that the repeated exposure to the same subject matter results in more diverse viewpoints. The deeper one gets into a particular subject, the more likely they develop their own opinions and the further developed and more nuanced these opinions become."